Searches and Certificates
Find all the property searches and certificates you need in one place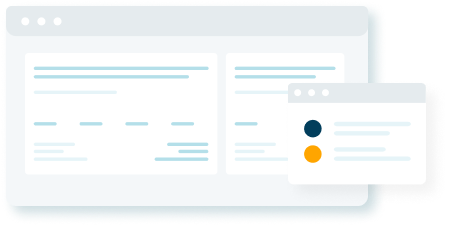 InfoTrack has a national property search functionality that offers a comprehensive range of land property searches. Our system guides you through the process of ordering a property search with the least amount of steps and data required for entry. From titles, property certificates to plans and dealings, InfoTrack has you covered.
Search this information
and more now with
Searches and Certificates
In one place, you can experience the key features of property searches online, such as:
Property Search bulk ability as well as a copy & paste option of up to 50 titles at a time, with free verification of address and proprietor (NSW/VIC/QLD).
Ability to view dealings list at the time of ordering titles (NSW/VIC).
Pre-population of details for Property Searches and Certificates (NSW/VIC/QLD).
Pre-select options for commonly ordered property certificates.
National Property Ownership Search – complete one form for national index search of all Australian Land Registries.
Property Ownership Searches are also available in NSW, VIC, QLD, SA, WA & TAS.
Ease and efficiency when submitting your NSW Electronic Notice of Sale (eNOS).
Real time processing and submission to Authorities for a fast certificate return.
We present a comprehensive company search offering, with quick links to ASIC, PPSR and AFSA Bankruptcy Searches for increased efficiency.
Ordering your company searches online; you have:
Access to ASIC: to provide you with information on companies, business name searches, SMSF, persons, documents and more.
Full access to the PPSR: this includes Organisational Grantor Searches, Secured Party Groups (SPGs), Serial Number Searches and more.
Ultimate Beneficial Owner (UBO), a report that analyses ASIC reports to calculate ownership percentages and present the identified beneficial owners in a simple, easy to read PDF report.
Access to the Combined ASIC & PPSR Report.
Access to Company Overview & Credit Status report: combines your ASIC Extract with a Creditorwatch Report for deeper due diligence.
Data visualisation for AFSA, PPSR and ASIC results through REVEAL.
Personal Searching is continuously growing as a response to industry changes and demand. In one place, you can search a number of registers, including the PPSR, AFSA and multiple Court systems to easily gather information.
In one place, you can experience the key features of personal searches online, such as:


National Property Ownership Search: verifies the property/s owned by an individual or a company across Australia.
Seek bankruptcy information by using the Australian Financial Security Authority (AFSA) Bankruptcy Searches and Extracts to confirm if an individual has been bankrupt.
For information on the last known address of a person as well as other valuable information use our Person Locator Search.
Find out if an individual or company you are dealing with has a record of civil litigation across multiple Australian Tribunals and Courts using the National Litigation Search.
Search the Personal Property Securities Register (PPSR) to search for interests in personal property other than land or buildings.
Police checks for companies, providing a summary of findings of guilt from of an individual in any Australian state or territory. The search is suitable for HR departments, child carers, In-house legal counsellors, volunteer organisations, among others.
Property Search Quick links