InfoTrack is a NSW Land Registry Services approved Information Broker. With InfoTrack you have access to a range of New South Wales property searches and services.
NSW searches
Historical Searches, Owner Name Searches, Sub Folio Searches, Lots Created, Prior Title, CAC, Reverse Street Address, Cancelled title
Plans & Dealings, Section 88B Instruments, Document Enquiry, Plan Enquiry, Cadastral records, Reference Map, Crown Plan
Offline Searches, Volume Folio, CWO, Bill of Sale
Lease Searches
Land Value Searches
WAL Certificate
NSW Council Certificates
Outstanding Notices Certificates – Section 735A & 121ZP
Swimming Pool Compliance Certificates
Noxious Weeds Certificate
Flood Level Enquiry
The Central Register of Restrictions (CRR)
The Central Register of Restrictions (CRR) is a centralised database recording potential and actual use of land by government agencies and utilities. LPI maintains the CRR on behalf of participating organisations, but responsibility for the currency and accuracy of the information held on the CRR remains with those organisations.
You can search the CRR using InfoTrack. Participating Central Register of Restrictions Agencies include:
Ausgrid
Department of Defence
Department of Education and Communities
Department of Trade and Investment
East Australian Pipeline
Endeavour Energy
Jemena Gas Network
Office of Environment & Heritage
Rail Corporation NSW
Roads & Maritime Services
Transgrid
other Authorities
NSW title search sample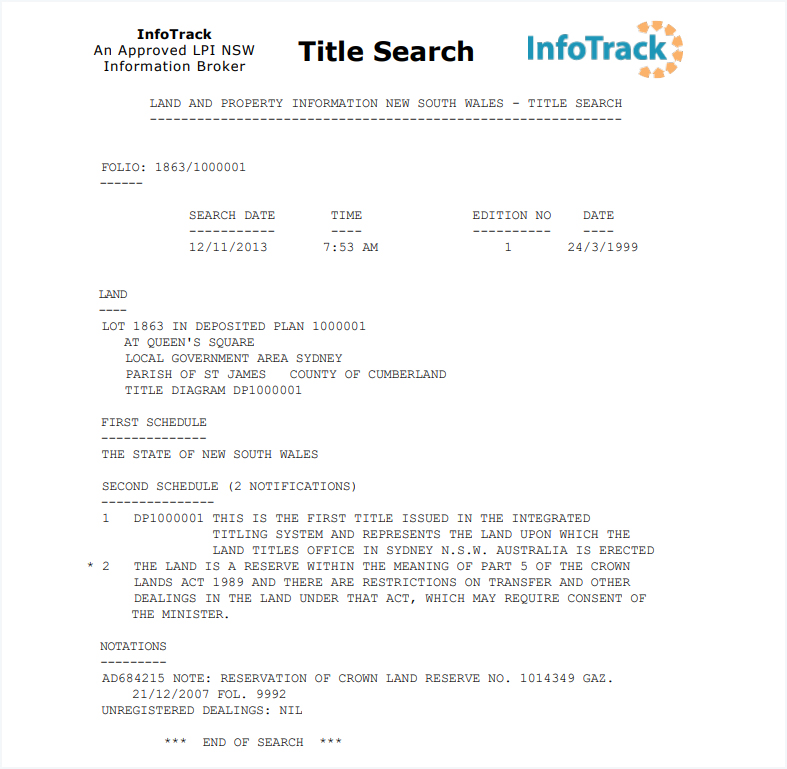 I was very happy with the ease and speed of the service.

- Kat, ordered a NSW title search
Very quick response and easy navigation. I'm very happy.

- Sarah, ordered a NSW title search and plan
My experience was great - really quick and efficient. Thank you :).

- Angela, ordered a NSW title search