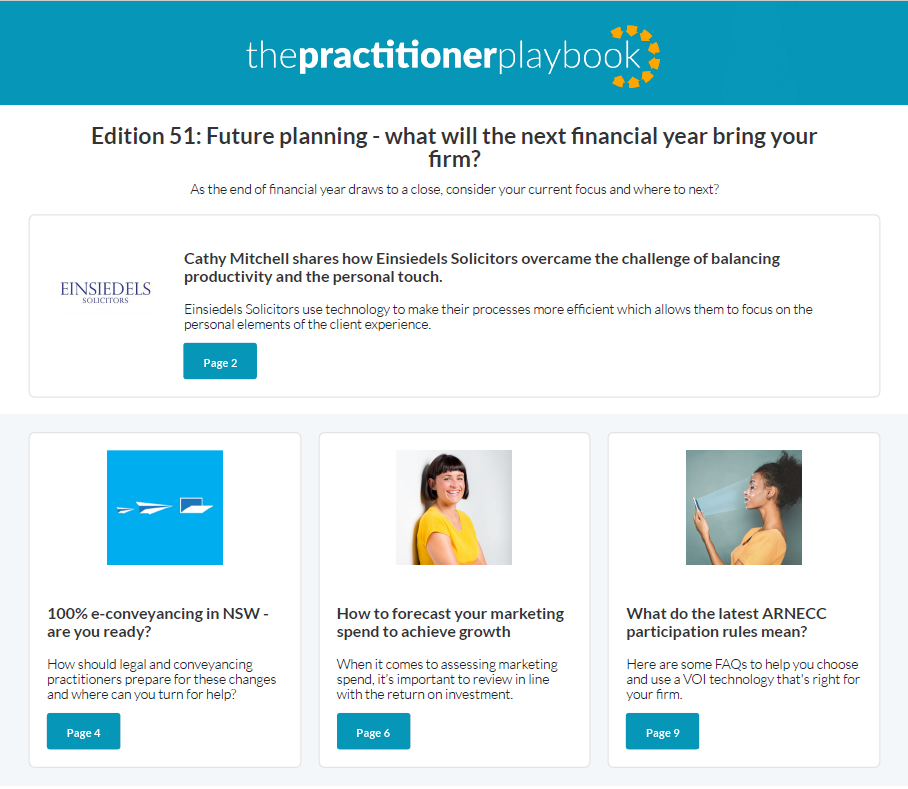 Practitioner Playbook Edition 51
Future planning – what will the next financial year bring your firm?
Featured Practitioner Insights: Cathy Mitchell from Einsiedels Solicitors shares how her firm overcame the challenge of balancing productivity and the personal touch.
Are you ready for 100% e-conveyancing in NSW?
How to forecast your marketing spend to achieve growth
Do the latest ARNECC rules change the way you verify identity?
Complimentary CPD webinars.
Read now
What is the Practitioner Playbook?
The Practitioner Playbook is a monthly digest covering the latest news for professional services providers across the legal and conveyancing industries. 
Each edition, we feature leading industry practitioners who share advice and stories cultivated throughout the course of their career. We share our latest product updates and give you access to our newest webinars. 
With every new edition, you receive fresh insights into industry news covering changes to legislation, new technologies, security & efficiency tips, and professional development webinars. All this, direct to your inbox on the first Wednesday morning of each month. Subscribe today to receive a personalised copy.
If you have any questions about The Practitioner Playbook or would like to contribute an article, send us an email at practitionerplaybook@infotrack.com.au. Our Editor will provide editorial deadlines and guidelines.