SignIT is an easy-to-use electronic signing tool that enables you to sign documents online in a few simple steps. SignIT it saves you time and money by allowing you to execute documents faster and avoid the hassle of printing, scanning and posting. We've partnered with trusted industry expert DocuSign to ensure a simple and secure signing process.
The following documents can be signed electronically using SignIt:
As well as any other document that can be signed electronically
SignIT allows you to upload any document and send it to parties via a secure email link. Parties can then review and sign the document online from any location. You can track who has signed the document on the SignIT dashboard and once all parties have executed, everyone receives a final signed copy. This saves all parties time and improves the user experience.
SMS verification
With its watertight security, InfoTrack's eSigning tool SignIT is safer than paper. For even more added security, you can now add SMS verification to your SignIT process.
Once a document is uploaded, signers are chosen and tags affixed, you can select to have SMS authentication. When signatures have been requested and the email accessed by the recipient, they will be prompted to select the mobile number and 'send SMS'. An authentication code will be sent to the provided mobile number, which can then be entered to enable access to the document for signing.
See how you can save hours to days of your time with an e-Signing demo
The time for digital conveyancing is now
Do you need support with making the transition?
We've got the tools to help you go 100% digital. Efficiently, effectively and seamlessly.
Benefits of SignIT & smart contracts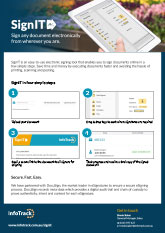 We've put together a quick quide to show you just how easy it is to use electronic signing.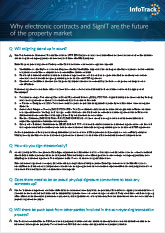 Read the answer to the questions we're frequently asked.