Risks & Rewards of e-conveyancing

Half day seminars
Sydney | Melbourne | Brisbane

SettleIT

Your on demand
e-settlement processing service

WebVOI

Three times smarter
InfoTrack services
We provide easy-to-use technology that transforms how businesses and people connect, interact with each other and access information.
View all products
Over 4,500 different products and services across a range of industries.
About InfoTrack
InfoTrack is an award-winning technology company that is helping a range of professionals and individuals in a digital age. We provide intuitive services that enable you to find, analyse, organise and communicate information efficiently and effectively. Our customers and clients tell us that the InfoTrack product suite is comprehensive, user friendly and that it continues to revolutionise their workflow, improve productivity, increase profitability whilst stimulating growth. We simply build smart technology that makes your life easier.
What sets us apart
Efficiency
Our innovative technology saves you time by pre-populating fields and making it easier to access and interpret data.
Single login
Our intuitive platform has over
4,500 searches
and services available with your single InfoTrack login, saving you valuable time.
Integration
We integrate with over 30 practice management systems to minimise re-keying data and increase accuracy.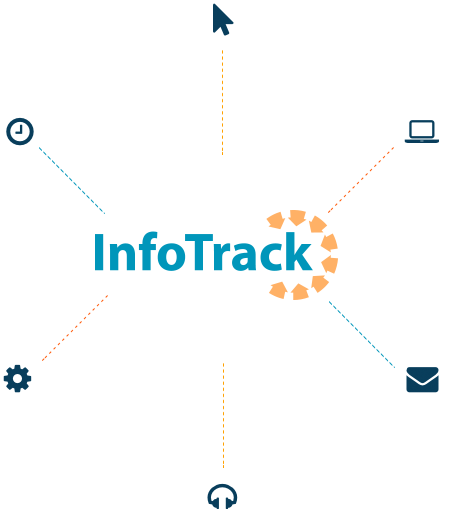 First class support
Contact our local team of experts on the phone, request a call back or chase certificates online with our next-generation HelpDesk, iSupport.
Improved workflow
We provide a platform for seamless end-to-end conveyances without the need to print, manually collate, post or scan your documents.
Instant searches
Not a business? We provide a range of property, personal and company searches – pay by credit card and receive your results via email.