Contaminated Land Screening Reports for NSW and VIC

It is estimated that there are approximately 160,000 contaminated land sites across Australia. 
Lotsearch, experts in spatial intelligence and risk mapping, have just launched a new product designed for conveyancers, solicitors and valuers.  The 'Contaminated Land Screening Report' offers a fast and efficient way for obtaining relevant information from regulatory and historical data sources. Information from these data sources is then used to provide a bespoke assessment of the potential for contamination to affect the site.
Comparison Chart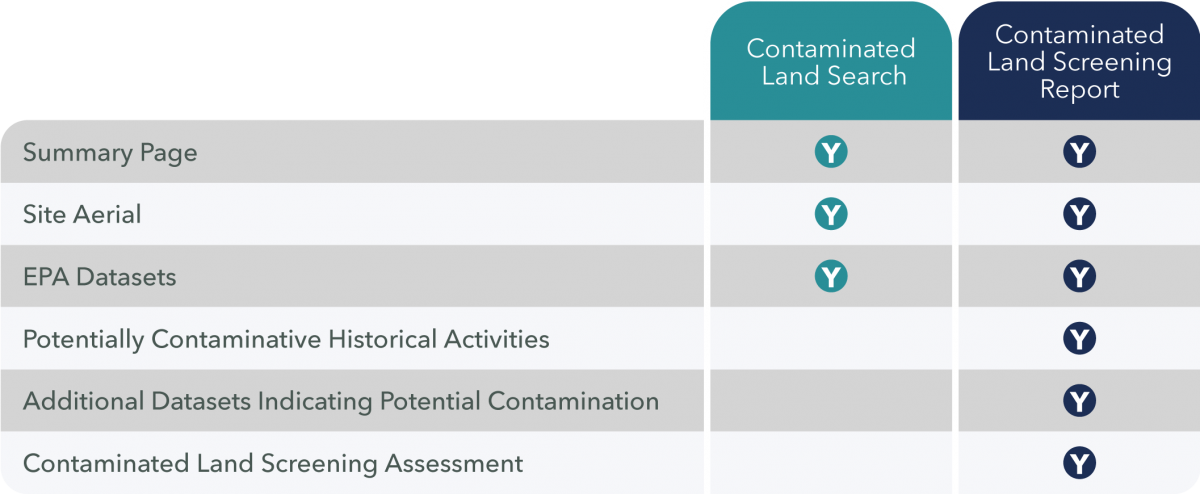 Comparison Chart Descriptions
Summary Page: This shows a quick summary of the information contained in the product.
Site Aerial: This is a high quality aerial/satellite photograph of the site with the lot boundary clearly highlighted.
EPA Datasets: These include declared contaminated sites and other contaminative activities managed and regulated by the relevant Environmental Protection Authority.
Potentially Contaminative Historical Activities: These include historical business activities that had the potential to cause contamination but where the site may not have been previously assessed or investigated.
Additional Datasets Indicating Potential Contamination: These are other government or proprietary datasets (in addition to the above) that contain information about sites that are known to carry a risk of contamination.
Contaminated Land Screening Assessment: This is a preliminary risk assessment made by an environmental consultant, using the information provided in the report.
Fill in your details for more information on Contaminated Land Screening Reports