Due diligence in the workplace
As the global marketplace expands, so too does the space for workplace risk. International transactions are increasing, as is the automation of workflows and overall digitisation. All of this change, as well as the ongoing issues of money laundering and terrorism reinforce the need for all businesses to conduct and maintain due diligence.
InfoTrack has a range of products and services which can enable you to perform your due diligence efficiently, with ease and simplicity.
| | |
| --- | --- |
| KYC or, 'Know Your Customer' refers to the ongoing customer due diligence and reporting that businesses should be maintaining. More specifically, this means assessing, collecting and verifying information on your customers. We can help you delve behind the corporate veil with our international company searching platform KYCIT. | VOI, or 'Verification of Identity' is the process involved in identifying an individual to help prevent against fraud. Verifying the identity of your clients and people you're working with is integral in the KYC due diligence process. We've developed an intuitive VOI app, IDfy, that allows you to implement a standard verification procedure for your business. |
| The need to sift through mountains of paperwork is eliminated with REVEAL; an interactive workspace that aggregates search results from multiple sources and instantly maps out relationships between people, companies and assets in one simple visualisation. |   |
Need help with due diligence? Book a free demo.
Find out how InfoTrack can help you implement better compliance procedures. Fill in the form to learn more about our due diligence tools. We will organise a time that suits you for a quick free demonstration.

Our recent due diligence survey revealed that many businesses are still grappling with how to implement comprehensive compliance programs.
15% uncovered fraudulent or criminal behaviour while carrying out due diligence
56% believe cryptocurrencies such as bitcoin will be key tools for money laundering
Click here to find out more results from InfoTrack's due diligence survey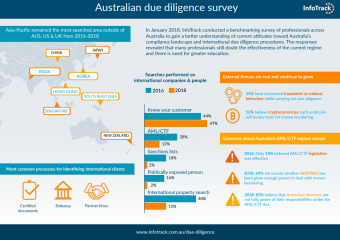 Due diligence on the blog