Designed exclusively for sole practitioners and in-house legal teams,  matteroTM  is the perfect solution to consolidate matters, documents, searches and fees all in  one place.  It's quick to start, simple to use and can be accessed on PC, MAC, Tablet or Smartphone. matteroTM is an affordable solution with no lock-in contracts.
matteroTM has partnered with InfoTrack to seamlessly integrate key services such as Title Searches, WebVOI and SignIT directly with matteroTM's matter management. Initiate an InfoTrack service order directly from the matter to minimise data entry and increase efficiency. Once the order is complete, the PDF documents and fees are saved real-time to the matter, expediting the entire process while keeping it simple and easy to use.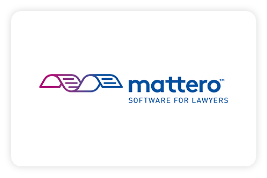 Six benefits of the matteroTM and InfoTrack partnership
1. Simple to use and maintain
2. Keep everything organised in the one place
3. An affordable solution – no lock-in contracts 4. Save 40% in time when ordering searches*
5. Save money by avoiding disbursement write-offs using our real-time cost recovery
6. Save valuable time by avoiding manual bookkeeping entries

*compared to other, non-integrated searching providers as stated by our trusted clients.
Save time with seamless integration
Book a matteroTM integration demo below.a