A modern cloud architecture, The iManage Cloud, is designed to support the unique needs of professional work product management. The product management solutions allow users to work effectively on high or low bandwidth connections including when disconnected. Each user experience delivered by iManage Cloud is optimised when working with large files. It is also fully secure and backed up across a worldwide network of data centers.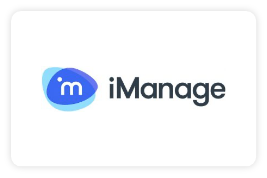 Five benefits of integrating iManage with InfoTrack.
1. Save 40% in time when ordering searches*.
2. Save money by avoiding disbursement write-offs using our real-time cost recovery.
3. Save valuable time by avoiding manual bookkeeping entries.
4. Fastest certificate and search return in the industry.
5. Pay via monthly invoice.

*compared to other, non-integrated searching providers as stated by our trusted clients.
Save time with seamless integration
Book an iManage integration demo below.