International Company Searching & due diligence
 How do you really know who you're dealing with? International transactions increase our exposure to risk and warrant enhanced due diligence. KYCIT is a comprehensive global search platform that enables you to perform due diligence on the companies and customers you're doing business with, no matter where they are in the world.
Our global KYC (Know Your Customer) search integrates with your practice management system and allows you to conduct all of your international company searches in one quick step. KYCIT provides real-time, uniform information from a range of jurisdictions all over the world which can easily allow you to identify beneficial owners and related subsidiaries.
Company | Director | KYC
InfoTrack's alliance of offices around the world provides direct links into key data sources, agents and registries, removing the need for you to access multiple websites to obtain your data. KYCIT utilises smart technology to access global repositories and ensure that you are reliably informed and receiving the highest quality of information and service.
Why use KYCIT?
In today's global marketplace, we are increasingly working with overseas entities and data is crucial for companies that either have International links, foreign companies or enhanced due diligence.
KYCIT offers a range of international company reports including information related to:
Company, director and property details including relationships (past and present).
Shareholding and beneficial ownership.
Corporate credit.
Legal and accounting information
Global Ultimate Owner
Key Financials and employees
Boards and committees
Controlling shareholders
Current subsidiaries where available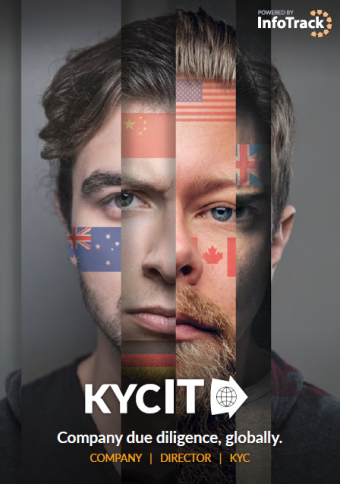 Need help with international company searching?
Download our KYCIT brochure to find out more.

KYCIT global KYC search
KYCIT streamlines your international company searching and returns real-time information from databases covering over 250 million companies worldwide, in a single PDF.
International Dow Jones Risk and Compliance report
Dow Jones international due diligence reports are available by entering a subject matter and person name. The risk and compliance reports are available in 250 jurisdictions and detail around 40 different PEP and special interest categories including trafficking, crime, corruption and more. The reports also detail sanction, exclusion, and other official lists to assist you in  accurately assessing risk levels.
International Credit Reports
On top of detailed company information, international credit reports include shareholder and ownership details, credit score and credit limit, financial statements, sales, profit and loss, balance sheets and cash flow and more. These reports also feature Reveal your customer, allowing you to visualise your aggregated search results.
Note that credit reports are currently only available for the following countries: United Kingdom, France, Ireland, Netherlands, Belgium, Sweden, Norway, Luxembourg, United States of America and Denmark.
Risk profile when dealing with international customers
Creditsafe provides an international score that allows you to compare company credit scores across the world. This allows you to compare reports easily if you are trading in multiple counties. The risk score measures the likelihood of a company becoming insolvent within the next 12 months.
| Rating | Description |   |
| --- | --- | --- |
| A | Very Low Risk | Proceed with transaction. |
| B | Low Risk | Proceed with transaction. |
| C | Moderate Risk | Proceed with caution and monitor. |
| D | High Risk | Request assurances before extending credit. |
| E | Not Rated | Insufficient information to assign a risk score. |
Search for a company or person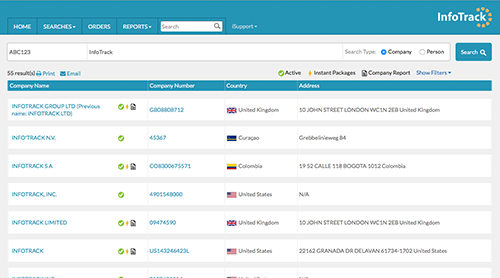 Enter the name of the company or person you are looking for in the search bar. KYCIT will return
results from across the world and include the company number, country and address for each match.
As you browse, you can filter results by jurisdiction and view which companies have instant reports
available.
Select a search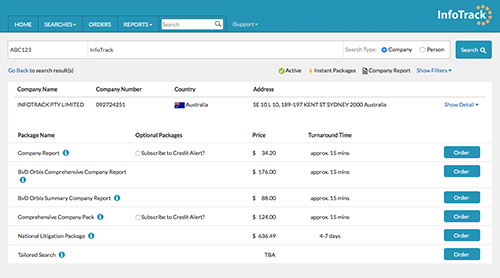 When you find the company you're looking for, you can choose from several different company report levels depending on the level of due diligence you require, or request a quote for your own tailored search package. We will provide you with a quote and turn-around time for any customised search requests within 24 hours.
REVEAL your customer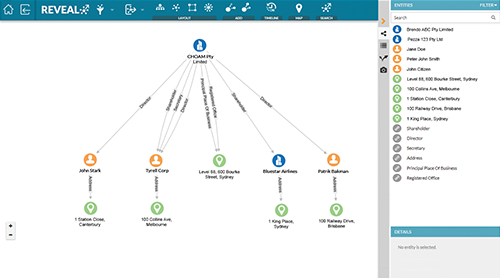 KYCIT allows you to visualise your aggregated search results with REVEAL to:
filter data to instantly identify beneficial owners, ultimate holding companies and persons of significant control

show up to 10 levels of subsidiaries of the company you have searched on

map out relationships between people, companies and assets

conduct additional on-searching of international companies and people