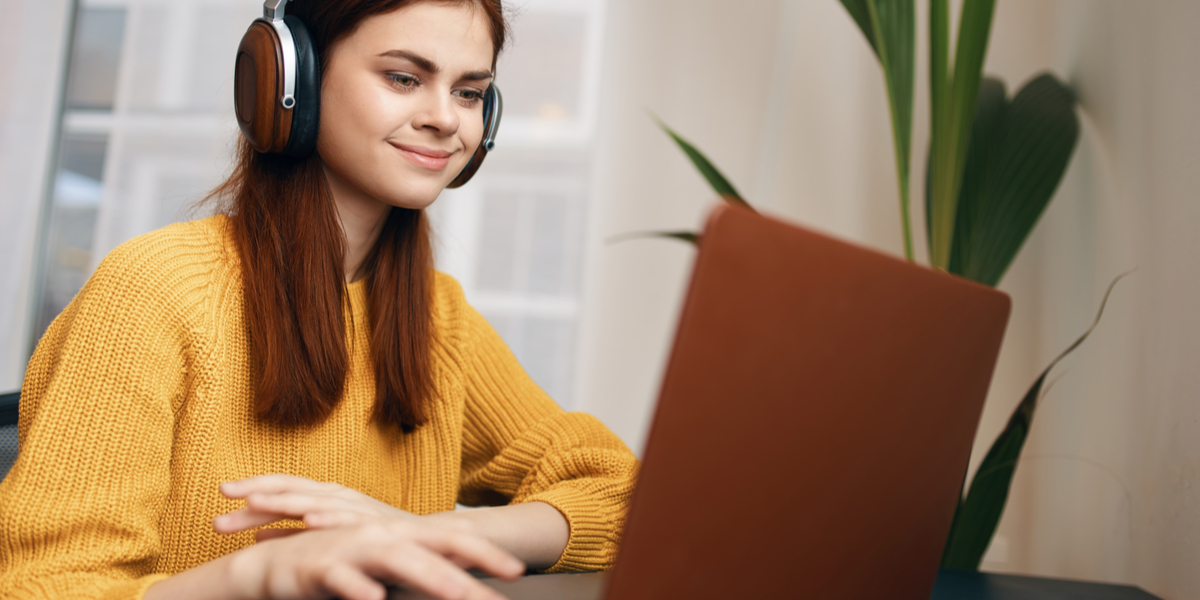 For many Australians, this year, we have had the unexpected thrown at us and found solutions to help us all adapt and thrive. With our biggest disrupter, COVID-19, hopefully on the decline, now is the time to focus on returning to normal – whether that be a new normal or back to the old way of life – the choice is yours.
With the next financial year looming, now is the perfect opportunity to review the last twelve months and learn. What strategies, tactics or technologies have you implemented over the last year that have helped you through challenging times? How has your firm grown or changed over the last year? What do you want to achieve in the next 12 months?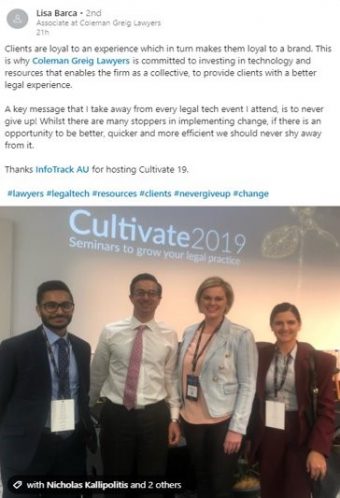 Thinking about growth, early in FY19/20 we brought you Cultivate 2019 – our complimentary series of seminars offering hints and tips on how to grow your firm. We wanted you to come away with strategies and solutions to help your firm thrive and get ahead of the competition. Lisa Barca from Coleman Greig Lawyers attended our Sydney event, "A key message that I take away…is to never give up! Whilst there are many stoppers in implementing change, if there is an opportunity to be better, quicker and more efficient we should never shy away from it."
Lisa's comments are a testament to how positive, powerful and innovative our clients are and how firm growth comes in many shapes and sizes. Your firm may have taken on more people, you may have acquired more clients, or you may have found solutions to become more efficient thereby giving yourself more time to devote to enhancing client relationships. However your firm changed over this year, InfoTrack's leading service and innovative solutions supported you to continue to excel.
Efficiency, productivity, learning and growth are central to what we do at InfoTrack as we aim to support our clients to achieve success. Our continual stream of webinars, both live and on demand, support legal professionals to grow through learning, achieving CPD units. We find repeat registrants looking for thought-leadership content on a range of topics from cyber security awareness to tips to electronically sign documents or settle properties electronically. Therese Stanton from Life Estate Planning Lawyers recently attended a joint partner webinar with one of our integrated Practice Management Systems and recognises the power of firm growth through learning about solutions to enhance efficiency and productivity. "I'm already a subscriber of SILQ and InfoTrack and highly recommend them and look forward to using more of the applications as my practice and client requirements grow."
When you grow, we grow and we noticed an inhibitor to your growth was the clunky administrative process when filing court documents and managing matter updates. In February 2020, we launched Court Sync, a document syncing service designed for litigators to keep their matters up to date with the latest information present in the Courts. This solution helps grow your firm as it reduces the steps you need to take to keep Court matters up to date. This helped us expand into areas like litigation and family law, serving more than property lawyers and conveyancers. InfoTrack is more than just a title search provider. In early March 2020, we acquired NZ-based WillNotice, supporting our NZ clients in areas like family law, wills, estates and probate.
As a leading innovator in legal technology, it's imperative we have our finger on the pulse of what the legal profession needs and calls for. In November 2019, we identified that when conducting a verification of identity (VOI) having a clear confirmation that your client is who they say they are goes a long way to achieve reasonable steps. As such, we launched Australian-legal industry first video verification as our fourth feature of WebVOI. Video verification allows your clients to video themselves speaking a randomly generated code and serves as an extra layer of identity verification increasing your confidence that your clients really are who they say they are. This cloud solution can be used anywhere at any time. This has proved exceptionally valuable in recent times when verifying identity face to face has been challenging due to social distancing. The solution has proved popular with a 260% growth since February 2020, meaning you see the value of a technology that helps you maintain business as usual. Amanda Spencer from Bridge Legal, said "Once our staff knew WebVOI was compliant with ARNECC recommendations they were very keen to use it and now it's as if it is something that we have used all the time. Our clients are time poor and many can't readily get to a post office. Using WebVOI was a relief that we could get through the verification of identity process quickly and efficiently, whilst putting our clients at ease."
As your firm continues to grow and change, where can your newfound skills, technology solutions and resilience take you? Thinking back to Lisa from Coleman Greig Lawyers "Never give up!" Lean on InfoTrack into the next financial year and beyond. Our leading solutions help set your firm apart from competitors and position you strongly in time of transition.