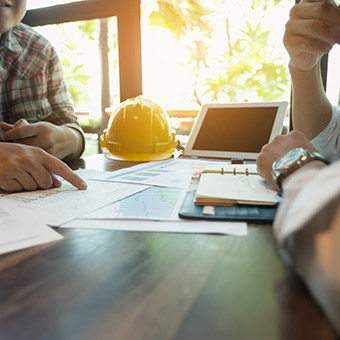 For construction workers, time is always of the essence and quite often, can be the cause of many challenges. Being a high turnover industry means that companies are constantly under high demand to fill positions quickly. With such constraints constantly being in place, turning a blind-eye towards fulfilling background checks on new employees and contractors becomes all too easy. However, having a sturdy pre-employment screening program in place can actually reduce employee turnover, as well as minimise the risk of hiring unreliable employees and help to maintain a safe workplace. 
So what checks should construction companies be doing on all new employees? Here are some of our recommendations:  
Implementing a drug and alcohol policy
Alcohol and drugs (including some prescription and over-the-counter medications) can affect a person's ability to work safely. Between 2012 – 2015 over 30,000 construction workers were injured on NSW sites because of unsafe work practices. While statistics on the relation between these injuries and drug/alcohol use vary in currently available research data, the impairing effect that these substances have on individuals can cause employees to injure themselves or others. 
Having a policy in place can help to reduce workplace risk and help you in creating a safe work environment for all parties involved. 
For more information and advice on establishing an alcohol and drugs policy in your workplace, check the guidelines on the Safework website.  
Conducting police checks
Construction sites are filled with heaps of expensive equipment, personal property and proprietary information. Therefore, you want to know that everyone who steps foot on site can be trusted. 
Including police checks in your pre-employment background process should be of high priority. Police checks serve to protect a company's employees, productivity, performance, resources, clients, culture and reputation. The purpose of conducting police checks is to determine whether an individual has a criminal record. When you complete a national police check, you get information about any criminal convictions, pending court proceedings, or any findings of guilt. You can get a police check from any ACIC accredited provider. 
Regulatory government checks
In Australia, all construction work needs to comply with the Work Health and Safety Act. For more information on the Construction Model Code of Practice, check the guidelines listed on Safe Work Australia.  
Despite a 31% reduction in the number of serious claims within the industry, in 2015, the Australian construction industry had the third most workplace fatalities, with a total of 33 deaths. Of this number, 28% of fatal incidents were caused by a fall from a height, 16% were caused by vehicle collisions and 15% were caused by contact with electricity.  
While the total number of workplace fatalities within the Construction industry has decreased, a tighter following of regulations outlined by WHS, or perhaps introducing more precise standards could have reduced the risk surrounding each case. For example, fall protection, hazard communications and respiratory protection.  
Where to from here?
While turning a blind eye towards these checks in favour of filling a position quickly is the easier option, putting the time and effort into completing them leaves a much longer-lasting positive impression on your company and its people. Being able to offer your workers a safe work environment with low employee turnover means that your site can focus on getting the work done in the timeframe required. 
If you're after some help in conducting background searches on your workers and contractors, get in touch today.