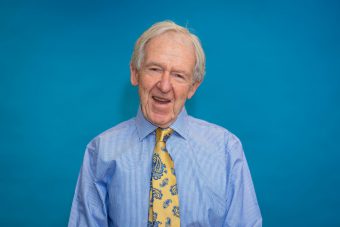 SettleIT Spotlight: John Macmillan
20 November 2018
by InfoTrack
In an effort to support the industry in the transition to electronic settlements, we've launched SettleIT a new service that handles settlement processing for you. With SettleIT, our experienced settlements team works in the background to ensure your settlements run smoothly. To help you get to know the team, we're running profiles on each member. Last week we spoke to Maxine Chilcott, Client Services Manager, and this week we're speaking with John Macmillan SettleIT's Senior Lawyer.
John has been a lawyer for many, many years and helped pioneer the Law Institute of Victoria's LINK service 25 plus years ago. After recently leaving general legal practice, John was excited by InfoTrack's innovative approach to business and joined the Property Services division and SettleIT team.
What's your role on the SettleIT team and what does a usual day look like for you?
I am engaged as a practicing lawyer. My principal role is to ensure that transactions lodged with PEXA and soon with Sympli, are compliant with ARNECC law and that registration can be affected at the Land Registry.
I review many transactions each day on screen for Melbourne and Sydney offices and am required to make a judgement as to the correctness of transactions and advise staff in connection with any legal problems which may arise.
I am also responsible for advising our Executives on some legal matters generally affecting the business and effecting registration in other states.
What motivates you?
Delivering an immediate and accurate service for clients and working with a professional, enthusiastic, co-operative team.
Can you give some examples of times you went above and beyond for clients to get the job done?
Not infrequently I have to consider the validity of information given to us by lawyers and sometimes advise them urgently to amend lodgments to ensure that valid transactions can be achieved. This may involve dialogue with lawyers on the legal and factual issues involved. Nothing is left to the next day if it is doable today.
What's the most complicated settlement you've worked on?
Registration based on overseas documentation brought into Australian law.
What advice would you give practitioners about the transition to electronic settlements?
Being involved with SettleIT and next year with Sympli can give you hours back in your day and pass the responsibility to us at an effective cost. Especially with the seamless integration of products and services through InfoTrack, Sympli and over 30 practice management systems.
Why should practitioners try SettleIT?
Don't try it, use it.
If you're looking for support with settlements in Victoria or New South Wales, don't hesitate to contact John and the SettleIT team on 03 8609 4750 (VIC) | 02 9099 7490 (NSW) or settleitteam@infotrack.com.au. We'll cover the cost of your PEXA settlement fees until 31 December 2018 each time you complete an electronic settlement via SettleIT. Visit the SettleIT page for more information and terms and conditions.