InfoTrack and ASX collaborate to form Sympli
Sympli is the result of a collaboration between InfoTrack and ASX. We want to create more opportunity, add value and truly represent the market with an e-Settlements platform that showcases our core capabilities.

As Australia's leading provider of e-Settlement technology and services, InfoTrack has been creating software for the legal and financial industries for over 18 years. With a focus on simple, end to end solutions, leveraging expertise to craft a truly integrated e-Settlements platform that you can trust.

ASX is one of the world's leading financial exchanges. Bringing experience in clearing and settling transactions with security, speed, reliability, and cutting-edge technology.

InfoTrack and ASX share a philosophy of putting clients at the centre of everything they do. Sympli is the next generation e-Settlements solution that brings healthy competition, reliability, security and value back to the industry.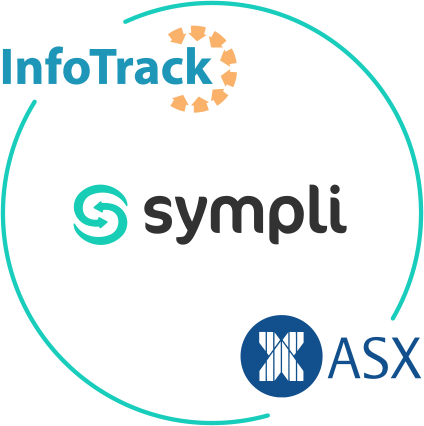 Affording the right to choose between Electronic Lodgment Network Operators (ELNOs) is a cornerstone of a reliable and innovative e-settlement industry. Indeed, this has been recognised since the law establishing the industry, Electronic Conveyancing National Law (ECNL), was enacted in 2012/2013.

Interoperability between ELNOs offers the right for every user, whether lawyer, conveyancer or financial institution, to choose their ELNO irrespective of the ELNO used by another transacting party.

For more information about how ELNO competition and interoperability can impact you, please refer to Sympli's Frequently Asked Questions about this topic.
Save time with seamless integration
Book a Sympli integration demo below.