ContactsLaw is revolutionary practice management software, designed and developed by practising Australian lawyers. It is a single software package that unites CRM, document and matter management, accounting and billing features with customisable workflows and business process modelling. For over a decade, ContactsLaw has evolved as a sophisticated and comprehensive solution for the operational requirements of modern legal practices.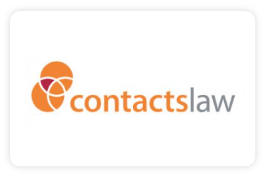 The depth and breadth of ContactsLaw's functionality helps deliver these great benefits when you integrate with InfoTrack:
1. Order searches from within the software via a dedicated activity
2. Searches pre-fill with the matter/contact you are working on
3. Documents appear automatically on the matter when the order is complete
4. Disbursements are also recorded automatically
5. Search on-demand, send tasks to other users or chain together with other activities as part of a workflow
Save time with seamless integration
Book a ContactsLaw integration demo below.