Magistrates' Court of Victoria EDI Service
Electronic Data Interchange (EDI) for use in the Court system has been available in Victoria since the 90's. EDI removes the laborious task of printing documents, preparing cheques or duty stamps purchased and forms which need to be physically filed at the Court Civil Registry.
Legal firms can issue the following Magistrates' Court documents electronically:
Complaints;
Default order requests;
Warrants to seize property; and
Summons for Oral Examination.
It is anticipated that this technology will be expanded to cater for other Court documents and jurisdictions in the future.
How InfoTrack VIC court filing works: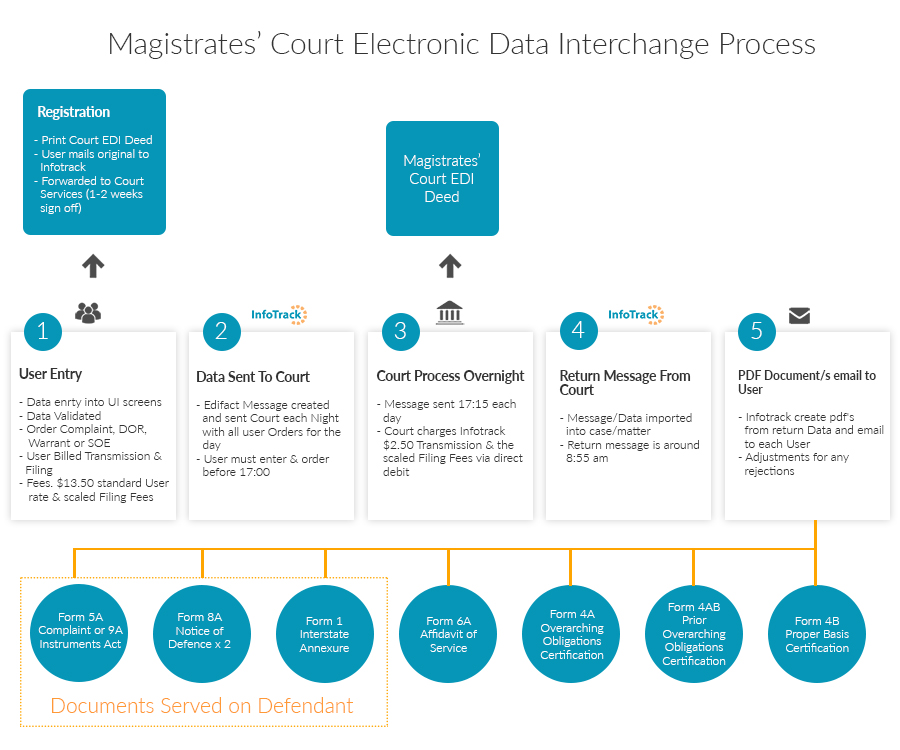 Start using EDI today
Fill out the form below and we'll be in touch shortly.

Time Saving
Eliminate the need to prepare, receipt and reconcile cheques.
Attendance at court is not required
Fast-tracked process
Documents can be issued for any Magistrate's Court in the State using one process.
Faster turnaround time ensuring a better client experience.
Rules regarding required information are better defined and more consistent to minimise rejections.
Save money
Postage costs and staffing levels are reduced.
No upfront costs with filing and transmission fees on accounts.
Reduced filing fees for documents issued electronically
Green process
The complaint issue process is entirely paperless.
User-friendly
User-friendly, easily operated data entry screens.
Integration into your practice management system so no need to rekey data
Multiple attachments and annexures to base documents.
Attach .pdf documents with the Complaint.