Electronic court filing is an online and seamless alternative for lodging your NSW Civil Registry court filing.
Lodge your court documents for any NSW Civil Registry from the convenience of your desktop.
With intuitive online forms and no uploading of signed documents, it's the simpler, smarter way to lodge through InfoTrack's e-filing system.
How it works
Using InfoTrack, the NSW Civil Registry e-Filing Service allows you to easily lodge your court forms for any local, district or supreme registry court from the comfort of your own desk. This significantly reduces the amount of time spent lodging court documents, whether you are currently doing it over the counter, through an agent, or online with the Registry directly.
This is the easiest and fastest way to lodge with most documents being turned around within 24 hours. InfoTrack keeps it simple with basic forms and clear instructions every step of the way.
The following forms are available to lodge online:
Statement of claim - guaranteed same day lodgment if lodged prior to 12pm
Affidavit of Service
Statement of Particulars
Subpoena to Attend to Give Evidence
Subpoena to Produce
Subpoena to Produce with an Early Return Date
Subpoena to Attend to Give Evidence and Produce
Notice of Motion for Default Judgement Possession of Land
Notice of Motion for Default Judgement Liquidated
Notice of Motion for Writ of Possession
Notice of Motion for Writ Levy of Property
Notice of Motion for Garnishee Wages or Salary
Notice of Motion for Garnishee Debt
We are proud to be in partnership with Easy Court Filing, who created this simple online facility which creates, securely stores, administers and electronically lodges court documentation.
Simple and easy to process via your InfoTrack account (see below).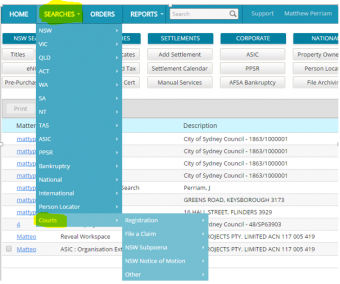 For more information, fill out the form below and we'll be in touch shortly.