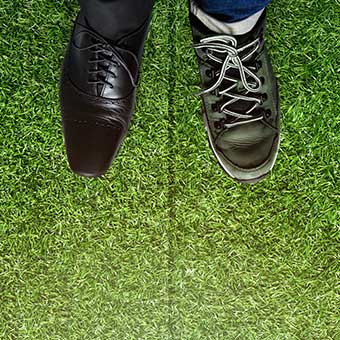 In today's fast-paced world, finding the separation between work and life is becoming more and more difficult. We're so connected through our mobile devices that it has almost become normal to check emails in bed, update social stats during dinner and take work-related calls on weekends. And with service providers facing more pressures from consumers with the expectation of 24/7 availability, regular updates and online services, it's becoming all too easy to let our balance fall to the wayside. Maintaining a work/life balance is not just important for personal health and relationships; it can also improve efficiency and performance at work. 
A study by the Australian Bureau of Statistics revealed that in the August 2016 quarter, full-time Australian workers were averaging a total of 40.6 hours spent at work per week; 2.6 hours over the 38-hour week that employees are paid.  
The reality is that the 'normal' working day has almost shifted on its heels from 9am – 5pm to 5am – 9pm. For many employees this is not a problem, nor do not begrudge it, it's when the signs of stress or burnout appear that change needs to be instigated.   
What happens when the balance is lacking?
Long work hours and a stressful work environment can not only affect an employee's ability to reconcile work and private life but is also associated with health problems including both physical and mental. 
Stress and Burnout
A recent survey of the Australian Workplace by Dr Lindsay McMillan OAM found that 29% of Australian workers feel a high amount of stress often or always at work, with a further 44% stating that they sometimes feel a high amount of stress related to work. Stress is a natural human response to difficult situations. While small amounts of stress (such as working to a deadline) can be helpful in increasing alertness, ongoing pressure can hinder the ability to cope with the stress, resulting in poor physical and mental health, as well as having a negative impact on relationships, work and wellbeing.
Burnout is a state of emotional and physical fatigue due to prolonged stress. According to Mind Health Connect, the three key features of burnout are emotional exhaustion, a feeling of detachment or cynicism and reduced efficiency. 
How do you rebalance a poor balance?
The best way to overcome a bad work/life balance is to manage your stress to help you cope better with daily pressures. Here are 4 tips to help you get started: 
Set goals: think about what you value most (both work and non-work related) and set goals around those. Some examples could include: improve my fitness and commit to waking up at 5am to workout or increase my efficiency at work by adopting an automated workflow process.
Use organisational tools: better manage your time with the tools available to you! This could be as simple as better utilising the calendar app on your phone, using a diary or following a to-do list. Or, if it's an unavoidable workload weighing you down, there are several software providers and apps available that streamline the workflow process, giving you more time to work on more important tasks.
Create clear boundaries & prioritise personal time: have clear separations between work and life. When outside of work, turn your phone off and limit access to emails and set time aside to spend with your loved ones and yourself! It's important that you put yourself first.
Refocus on your physical and mental health: Peak performance at work relies on you being in optimal physical and mental shape. Know your peak output times throughout the day and maximise these. Get the basics right of exercising regularly, eating healthily and getting enough sleep.

 
Benefits of a healthy balance
Creating and maintaining a positive work/life balance is essential to leading a happy and fulfilling life. Successfully applying it every day is beneficial to both you and your place of employment.
Employee benefits
Your overall health and well-being will improve.
You will be more productive both in and out of the office.
You will start to enjoy your work more.
You'll have more time for yourself!
Employer benefits
Happy and healthy employees can better handle adversity and customer demands.
Happy and healthy employees are more productive.
Happy and healthy employees provide better service and boost your competitiveness.
Happy and healthy employees stay.
Despite the fact that the average Australian work week has shrunk in hours over the past ten years, our reliance on technology has undeniably blurred the boundaries between work and home, making the need for a healthy work/life balance more imminent than ever. It's important that companies understand, respect and help where needed their employee's needs for a healthy lifestyle both inside and outside of work. Likewise, it's important that individuals recognise this too, and self-manage accordingly.  
Interested in contributing to our blog? Email us at blog@infotrack.com.au to get involved!