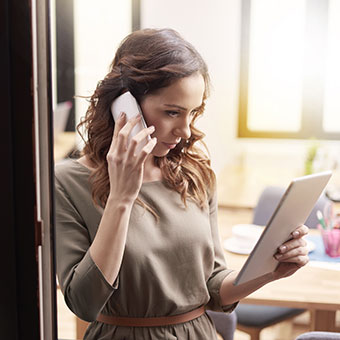 When hiring new employees, it should always be of best interest that you have a strict pre-employment process in place. Culture is key and your employees are your most valuable asset, so you need to safeguard them. Having a process in place doesn't portray distrust, but rather proper due diligence on your part. It is of best interest to you, your company and its people that you know who you are hiring and can trust that they can carry out their roles honestly and ethically.
A recent survey we did at InfoTrack with Lawyers Weekly revealed that only 50% of respondents had a pre-employment process in place. I'd be lying if I said that this result didn't come as a shock, especially when considering how thorough our process is at InfoTrack.
There are so many reasons as to why the inclusion of pre-employment screening in your workplace is so important! Just one act of internal crime can cause a ripple-effect of damage on your company's reputation, team morale and culture, just to name a few.
So, what should you include in your pre-employment screening process? Here are some of our most valuable tools:
Crosscheck resume with LinkedIn
Sometimes applicants aren't entirely truthful on their resumes. Luckily for us though, the broad adoption of LinkedIn has made cross-checking information much easier! Some things to look out for:
- Job Titles: Sometimes people think that by inflating their job titles on a resume/job application they become more employable, which obviously isn't the case when it becomes known that that position is false. Typically, people aren't bold enough to lie on resumes that can be viewed online, as these are public and visible to current employers, who can dispute the information that is on there.
- Qualifications: Sometimes a candidate didn't quite finish a degree, or sometimes a qualification is omitted because it would make them overqualified. In either case, the truth can quite often be found online. Or, if doubt persists, employers do have the right to call an educational institution and ask if 'John Smith' was a student there.
- Employment dates: Quite often people with a job gap will falsify dates on a resume. If this looks to be the case, simply ask at interview. A lot of the time candidates will try to cover a job gap for fear of being rejected for a position.
- Skills: A good indicator of forged skills on a resume is to see whether the skills match the job title. If they mismatch, that's a red flag and you should ask them to elaborate on the skill set and how they developed it.
Police checks
Police checks serve to protect an organisation's employees, productivity, performance, resources, clients, culture and reputation. You can obtain a police check from any ACIC accredited provider. The purpose of conducting police checks is to determine whether a candidate has a criminal record. When you conduct a national police check, you will get information about any criminal convictions, pending court proceedings, or any findings of guilt.
At InfoTrack we offer a premium police check service and are ACIC accredited.
Reference checks
Gone are the days when getting your best mate to cover as your manager were as simple as said and done. Including reference checks in your pre-employment screening is important for several reasons. For example, here at InfoTrack, we always call the references that candidates list and we don't hire anyone who doesn't have good references. This is also a good way to fathom whether the candidate is a good fit for your culture as well.
Some of these tools may seem obvious, however as the aforementioned results from the InfoTrack/Lawyers Weekly survey show, there are a startling number of organisations not practicing a strict pre-employment process. By implementing a recruitment process that is consistently practised, covering work history, education, reference checks, police checks and other necessary background checks, you will be minimising poor hiring decisions and the risks involved. You want to create a work culture where you, your staff and any visitors are comfortable knowing that they are safe. Put this in a real-life scenario, it means owning a workplace where your staff can comfortably leave their phones or other belongings on their desks without worrying about them being stolen. It could also mean not having to worry about being bullied by other team members.
A little extra work on your end inarguably goes a very long way in the long run!
Want to keep up to date with our posts? Subscribe to the blog today!