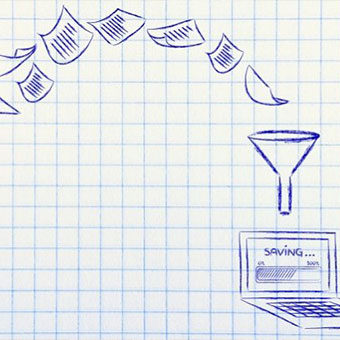 InfoTrack and Lawyers Weekly recently conducted a Transaction Technology survey of 742 legal professionals which revealed that over 20% believe that complacency could be threatening innovation in the legal market. Despite this fear, I believe that the industry is taking big steps to move itself into the future and now more than ever, legal players are embracing change and supporting innovation.
There is an undeniable shift occurring in the legal market and we are moving closer and closer to a truly digital future. There has been talk of electronic conveyancing for years, but it's only recently that it has become a reality with new technology enabling practitioners to conduct a completely electronic transaction from start to finish.
On 9 June 2016, Claire Martin, a solicitor at Kreisson, conducted the first fully digital conveyance in the country when she sold her apartment in Dee Why without touching a single piece of paper. She had access to the money from the sale within 10 minutes. InfoTrack is proud to have played an integral part in this historic transaction.
Claire was able to conduct the following tasks electronically:
real estate agency agreement
contract preparation
execution of e-Contract by all parties
exchange
discharge of Mortgage
payment of stamp duty
ordering of s109 and
settlement
Gone are the days of piecing together contracts and amassing piles of paper that need to be scanned and emailed repeatedly.
Practitioners can now prepare, sign and exchange a contract from wherever they are – physical and geographical constraints are no longer an issue. Practitioners can save up to 30 minutes per contract and hours to days on the exchange process. It is simpler than ever and the profession is beginning to embrace this new way as they gain a better understanding of how it improves their workflow.
The benefits of going digital cannot be denied. It increases efficiency and accuracy – when you prepare a contract online, information is prepopulated saving time and avoiding data entry errors and there is only one master version of the contract that cannot be tampered with.
Digital conveyancing also cuts down on costs and wasted resources, including the reams of paper that each transaction used to involve.
The conveyancing process becomes much easier for everyone involved as efficiency benefits are passed on to clients and real estate agents. Most importantly in an industry where every minute counts, electronic conveyancing literally gives practitioners back time.
In an increasingly competitive market, it is more important than ever to stay on the leading edge of technology if you want to stay in the game. Technology is fast becoming a huge differentiator in the legal and conveyancing industries and practitioners are taking note. In our Transaction Technology survey, 78% of respondents agreed that early adoption of new technology is better for business.
This is the biggest change to how we buy and sell property in our lifetime and the start of a new era that will see firms move more and more of their processes online. The numbers clearly demonstrate that the industry is ready to embrace a change and early adopters are already forging the way toward a truly paperless future.
Originally posted on the ALPMA Blog - http://www.alpma.com.au/a-survival-guide-for-legal-practice-managers