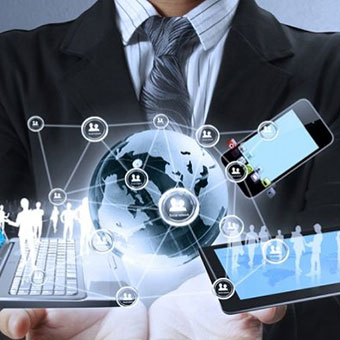 e-Conveyancing - the digital age
As digital technology continues to evolve at a rapid pace so do consumer expectations. Today's clients are used to having access to almost anything at the tips of their fingers; from banking to dating, everything they need can be arranged in seconds with a few taps on a smartphone. The bar for service standards is steadily rising as consumers expect this level of convenience in every aspect of their lives.
A recent study by EY Sweeney (Digital Australia: State of the Nation (2015-16)) highlights the momentum with which Australia's digital transformation is occurring. Australia's economy is becoming increasingly digital, with 81% of Australians owning a smartphone and 38% stating they would rather conduct transactions over the internet.
With so many Australians adopting the digital way of life, firms that fail to offer digital services will undoubtedly fall behind the pack. According to the survey, 45% of consumers say that organisations that fail to offer a high quality digital experience run the risk of losing them as a customer. The 'digital experience' has become one of the greatest differentiators, meaning if you don't have a digital strategy in place you need to get one fast.
The new legal landscape
The legal industry is a notoriously late adopter known for resistance to change, but we are not immune to these shifting consumer expectations. This has become obvious as clients demand more transparency and expect to see value for their money. Today's clients are highly informed and shop around for the best service. As legal players, we have to learn how to do more with less as we strive to differentiate ourselves in an increasingly competitive market.
The simple truth in this new reality is that we have to adapt our services to better suit our clients' needs or risk being left behind. This means finding ways to provide faster service that is simple, efficient, transparent and cost-effective and the best way to do this is through implementing digital processes. A big part of getting digital right is understanding customer expectations and finding the right solutions to meet their needs.
What does this mean for lawyers and conveyancers? We need to simplify processes both for ourselves and for those we serve. In the conveyancing field, it's not only clients who are expecting better service, but real estate agents as well. The fact of the matter is whoever can prepare and exchange contracts fastest and with the most ease will win more business.
Improve user experience through electronic contract creation and exchange.
Luckily for us, the advent of electronic contracts and signatures is ushering in a new age of conveyancing, one that's much greener and provides a simpler, streamlined system for clients. Electronic contracts and e-signatures allow clients to move through the conveyancing process with ease, creating a far better user experience.
The digitalisation of contracts and signatures allows InfoTrack to provide conveyancing services with greater speed and efficiency, which not only improves the level of service we offer but creates opportunities for more business. The easier we can make the purchasing process, the more satisfied clients and real estate agents will be which can lead to repeat business and positive word of mouth.
When it comes to legal processes, security is inevitably one of the biggest concerns for all parties. According to the EY Sweeney survey, 97% of Australian consumers feel that transaction security is a key component of a digital experience. Luckily, millions of users worldwide are already using some form of electronic signatures and providers like DocuSign have taken security issues seriously and created trusted platforms.
At InfoTrack, security is a top priority and we take it very seriously. We safeguard our clients' business like it's our own. Our clients expect nothing less and trust us to have their best interests at heart. As more and more firms continue to move their business online, clients expect electronic efficiencies as the norm and we have the tools to help optimise your clients' digital experience.
We're innovative disruptors in the true sense of the word and we're leading the charge to create seamless electronic conveyancing. We can help digitise your conveyancing process through eCOS and SignIT, our latest electronic Contract for Sale and electronic signing technology. It's simple, secure and creates significant efficiencies for your firm while providing clients and real estate agents with a better conveyancing experience that's streamlined and digital.
Our website is a one-stop electronic shop for all your conveyancing needs that allows you to order, prepare and sign your Contract for Sale completely online. What used to be a laborious process can now be done in a few simple steps whilst you enjoy your coffee. We've developed a seamless system that lets you exchange your Contract securely from wherever you are. Only the vendor's representative needs to be an InfoTrack client to create and upload a Contract for exchange, making it easier than ever to complete the econveyancing journey. We've also partnered with DocuSign, the trusted industry expert to ensure a secure signing process.
If you haven't already, now is the time to get on the digital wagon. Technology is only developing at faster rates and failing to adapt will hinder your productivity and create a large service gap for your firm. We're dedicated to providing our customers with tools that streamline their processes and in turn help them create efficiencies for the clients they serve. Get in touch today to let InfoTrack help you move your firm into the digital era using our eCOS and SignIT services.