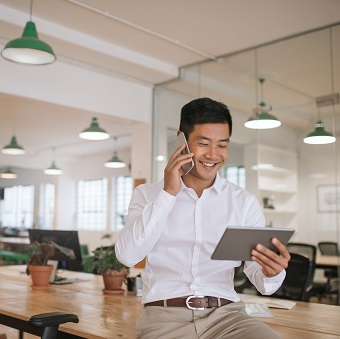 E-conveyancing has been talked about in Australia for over 10 years and the conversation has typically revolved around electronic settlement. The terms e-conveyancing and e-settlements have been used interchangeably, but e-settlements are only one part of the wider e-conveyancing system. The last several years have seen a significant evolution in technology available to the conveyancing industry and it's time to broaden the scope of our discussions.
Electronic conveyancing is meant to bring the industry into the digital world and improve processes, but there's no denying that the changes that have come along with it combined with the downturn in the property market and increasing competition have put serious pressure on practitioners. Our clients have told us time and again that they're being expected to work faster while dealing with constant change and mounting risk.
That's why we've been working with our clients and industry stakeholders to build technology that is integrated, easy to use and improves upon the manual process. We are the first technology provider to develop a comprehensive end-to-end electronic conveyancing solution that integrates with over 30 practice management systems to increase efficiency, mitigate risk and improve client experience.
When we use the word 'e-conveyancing', we're talking about the whole process from start to finish, not just settlement. Here is an overview of the technology that makes up our e-conveyancing solution which is available to you right now and can offer immediate benefits to your firm.

Verification of identity (WebVOI)
VOI is something that most practitioners were already doing in some form or another even before e-conveyancing came into play. However, it was formally legislated a few years back and practitioners are now required to take 'reasonable steps' to verify clients.
Having a standard electronic VOI process in place helps reduce risk by ensuring your verifications are done the same way each time, with reports saved back to the matter for evidence if necessary. WebVOI also gives you flexibility to conduct VOI in-house, remotely or via a Settlement Clerk, to make things more convenient for both you and your clients.
Electronic certificates (InfoTrack searching)
Being able to order all your certificates in one place, chase them online, and have them automatically billed and saved to the relevant matter is not only a huge time saver but avoids lost disbursements and accounting hassles.
Electronic contracts (eCOS NSW & eCOS VIC)
Let's clear up a common misconception; just because you create a contract electronically, that doesn't mean you have to sign it electronically. If you're not keen on e-signing, you can simply print of your eCOS to get your ink on paper signatures. The main benefits of using eCOS are that you can compile your contract in one click – it saves time, gives you the ability to easily edit, lets you import your own documents and increases accuracy with information prepopulated from the Title and certificates. We also offer PlanIT for off-the-plan projects which enables you to compile 100s of contracts in minutes.
Electronic signing (SignIT)
If you do wish to sign your contracts electronically, you have the option with SignIT, our electronic signing platform powered by DocuSign. SignIT gives your clients the freedom to sign the contract anytime, anywhere via a secure email link. You can track the status of signatures and have peace of mind because DocuSign records meta-data to provide a digital audit train and chain of custody.
Electronic exchange (Securexchange)
Deposit theft has become a significant issue in the property industry as hackers phish for information to intercept email communications and divert funds into fraudulent accounts. Securexchange is a secure website that enables you to communicate and confirm account details with your clients in a safe environment to finalise the exchange.
Electronic settlement (SettleIT)
Whether you want to go direct to the ELNO or rely on Settlement Agents, we have you covered. Through integration, we offer easier workspace creation. But if you're not keen to handle the e-settlement on your own, you can enlist our SettleIT team to handle the administrative aspects of the settlement. You simply hand over the important documents and approve critical steps along the way, while our team keeps you updated and ensures the settlement runs smoothly.
Some of you have been early adopters of e-conveyancing while others are just at the beginning of the journey. Wherever you fall on that spectrum, if you're looking for additional support with e-conveyancing, get in touch with us today to see how we can help your firm.