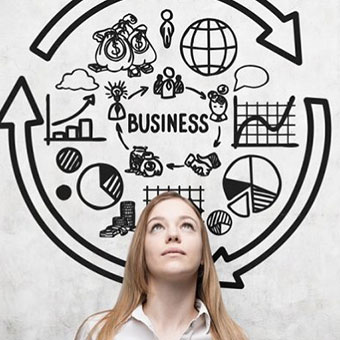 Technology has changed our workflows to be more dynamic and fast-paced. Nearly all companies and businesses are digital now and are trying, no matter the industry, sector or business function, to use new technology to streamline processes. As productivity software evolves companies are using data mined by sensors, phones, computers, GPS and a whole host of other sources of information which ultimately is being supplied by customers.
As exciting as all these changes are, it's easy to let technology become a barrier to productivity. Sometimes ramping up a new tool can be clunky and slow, and transitioning to new tools sometimes means you end up adding an extra layer to your workflow for a while.
Even among digital specialists and those growing up in the digital world, adoption of things like digital tools often doesn't live up to lofty expectations. Companies can spend hundreds-of-thousands of dollars, if not millions, on technology and still see people working in their old ways. The result is often widely deployed apps and technologies that no one actually uses effectively.
I read an article recently on the Harvard Business Review which gave some great insights on what needs to be done to enhance adoption of digital tools in the workplace. Here's a summary of the article's tips.
Do fewer things better. Despite the opportunities that exist to invest time, effort, and dollars into making your business more digital, you can't do them all. Focus on the initiatives that you believe, once adopted by the business, will create real value — and that you believe you can actually finish.

Plan and budget for adoption from the start. Plan for what it will take to realize the benefits beyond the technology deployment efforts. Take into account the people, process and structural changes. Budget for the communication, training and organizational development required to succeed.

Lead by example. You can influence the transition to new digital ways of working by modelling the change you want to see happen – and by encouraging your colleagues to do so.

Engage true believers. Drawing on influential employees in the front line is one of the most effective vehicles for promoting change in an organization. Identify digital champions and devise a program to nurture your champions, as they are key to transformation success and will most likely be your organization's future digital leaders.

Engage your HR and Organizational Development people early. Encourage them to take a leadership role in the transformation. It will be essential for them to adapt management and HR processes to ensure the new practices get institutionalized – for instance, designing a new digital competency model or formalizing a reverse mentoring program.

Align rewards and recognition. Transformation goals and measures are inextricably linked. It's natural that conflicts in your reward structures will occur as you get into the depth of your digital conversion, and this can slow down execution. Use all available reward structures to foster adoption, not just financial ones. And consider new forms of employee engagement, such as games, which can also yield positive results.
With all of these tips in mind, it's imperative to note that the best digital tools are the ones that help facilitate productivity and streamline workflows without slowing down your existing processes. Additionally, they should be easy to learn. Have you found a tool that is extremely difficult to learn that you would recommend your company to use? I thought not. That's because the best tools are accessible enough for everyone to start using quickly and offer the support you need to implement them. Think Uber, Xero, Microsoft's suite of products, and Slack, just to name a few.
Kim Phillips, Senior Client Relationship Manager at InfoTrack, recently posted an article entitled "Is your law firm's love of tradition holding you back?" which is well worth a read. This question can be posed across a number of industries. Here's an excerpt of Kim's article:
"I push for progress, and for smarter workflow. This is one of the reasons I love my current job role. Every day when I train a new firm on InfoTrack's integrated searching system, or show a new time saving feature we've added to our product suite to an existing client; I get to hear the 'Wow'! My clients tell me how much time I'm going to save them on tedious parts of their job, and I know that I'm helping to bring the law industry into the future."
Here at InfoTrack, we get these "wow" moments a lot. That's because we understand that time is precious, and we listen to our clients when we build our products and services so that they seamlessly fit into your business workflow. We innovate and build products and services that streamline workflows across a range of industries including legal, conveyancing, banking & finance, accounting and mercantile. Our search capabilities support customer productivity, profitably and growth whilst still being accessible and easy to learn.
As Kim so beautifully alludes to in her post, technology like InfoTrack's is not something that should be feared, it can save you massive amounts of time and stress if you follow the correct process in enhancing and nurturing digital adoption in your firm.