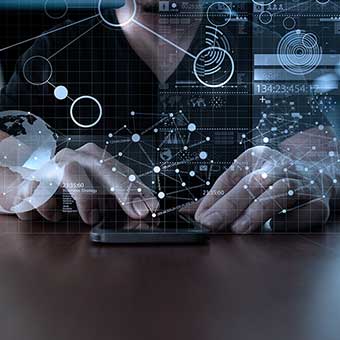 As a business of any size, it's no longer enough to just have a website. Recent research by Google found that 97% of consumers search for local businesses online. In order to ensure that your business is visible to consumers online, you need to optimize your site. 
SEO, or Search Engine Optimisation, is the process of getting traffic from the free search results on search engines. Utilising SEO helps you to understand how consumers are searching for and finding information about brands online. Research by WordStream found that 72% of consumers who did a local search visited a store within five miles. Whilst this statistic doesn't come as too much of a surprise, it does reinforce how critical search results are for local businesses. If you haven't already done so, make sure that you have claimed your business on Google My Business. Setting this up is simple; just go to the Google My Business page and fill in the necessary details. This function allows you to set up your map location, open hours and contact number, making it easier for consumers to find you. 
How does it work?
SEO draws on both the technical and creative elements required for improving rankings, boosting traffic and increasing awareness in search engines. However, there are hundreds of factors that will impact where you rank, from the words you use on your site to how other sites link to you.  
By implementing the following techniques, you will have a search engine friendly website in no time! 
Keywords
Keywords are ideas and topics that define what your website is about. In relation to SEO, keywords are the words or phrases that your potential customers are putting into search engines. Finding the relevant keywords for your website involves a lot of research and making sure that your goals align with the goals of your visitors. 
Why are they important?
Keywords are important as they are the glue between what people are searching and the content on your website. Essentially, your goal in search engine ranking is to drive organic traffic to your site from the results page of the search engine. The keywords you use will determine what kind of traffic you get.
When putting your list of targeted keywords together, you want to make sure you have a good combination of head keywords ( a singular word with high volume) and long-tail keywords (specific combinations of words). Whilst head keywords may initially appear to be your ultimate goal, as they often have high search volumes, they can also be vague and come with stiff competition. For example, if you're business is a clothing boutique, using the term 'clothes' as a keyword will have you lost in a search engine result as you'll be competing with brands such as ASOS, The Iconic and Boohoo.
Long-tail keywords are typically more clearly defined and come with a higher rate of conversion. For example, using 'vintage clothing boutique Fremantle' will have less competition than 'clothes' and is relevant to what searchers would be looking for. 
Content
Put simply, content is everything that is on your website. In relation to SEO and keywords, online content is written content from the perspective of an individual or business aiming to inform and pull in new and existing customers. 
How can content be used strategically?
First and foremost, your content needs to be relevant; your goal is to have people stay on your website for as long as possible. If you're stuck on content ideas, look to see what your competitors are doing; those who are successful are ranking at the top for a reason!
Tying content in with SEO and keywords, every page on your website should contain unique keywords. This includes the title tag, the headline tag on the page, the body of content, the URL link and even the meta description.
Of course, it is also important that you include a strong call-to-action (CTA) in all of your content. This ensures that your traffic is lead generating and not just traffic for the sake of it. You can use a tool such as Google Analytics so that you can track how much of your website traffic is organic (coming from a search engine) as opposed to other sources. 
HTML
Search engine's don't just read the text in your website content; they also read the text in your code as well. There are seven sections of your code that need optimising. 
Title tags: A title tag is the HTML feature that specifies the title of a web page. For maximum results, every web page should have a unique title tag. Title tags are what appears in search engine results pages as the clickable title, they need to be relevant to the page's content and contain keywords. 
Meta description: The meta description is the small summary that appears underneath the clickable link on a search engine results page. Whilst the meta description doesn't impact your ranking too heavily, it tells potential site visitors what your content is about. 
Headings: HTML headings differ slightly to headings in a book, in that they come in a specific order. H1, H2, H3, H4 and so on. H1 is the main headings and so is the highest priority and always starts the page. From there, H2 onwards have less priority, with the higher numbers being of lower priority. Headings should always contain keywords and be relevant to the content on your site. 
Sitemaps: Sitemaps help search engines find and classify content on your site. There are two main types of sitemaps that you can create. HTML, which is easy for both people and search engines to read, and XML sitemaps, which are coded for search engines to read. 
Domain name: Your domain name is the key part of your online address. It is unique to you and can't be used by anyone else after you have registered it. Domain names that include keywords tend to rank a lot higher than those without. However, domain names that include keywords tend to lack creativity. If a lot of your traffic is generated by search engines, using a domain name with a keyword may be the best decision for you, otherwise, if SEO is only a small part of your digital strategy, run with a more unique name. 
URL: Your URL is your web address, and is often an overlooked component in the SEO workspace. A messy URL is difficult for search engines to crawl, which means that your site won't rank in searches. To keep your URL friendly, make sure that you only use numbers and letters, keep the URL short and use dashes instead of underscores.
Whilst a beginners understanding of SEO and keywords can be intimidating, gaining a more sound level of comprehension and implementing these simple tools is a good first step to take towards helping you rank effectively on search engines and boost traffic to your site! 
Interested in contributing to our blog? Email us at blog@infotrack.com.au to get involved!