Six benefits of integrating LexisNexis Affinity with InfoTrack:
No need to re-key, data fields are mapped from Affinity.


Easily select party information in Affinity for ASIC, PPSR and all corporate related searching.

Integration delivered via Standard Affinity functionality with 100% compliance with the Affinity End User Guide.*

Seamless document management with completed search results returned directly your document management portal.

Reliable cost recovery, searches are completed under valid matter numbers only.

Easy installation with zero downtime.
*While InfoTrack does not have any formal partnership in place with LexisNexis, the InfoTrack system may be used in conjunction with Lexis Affinity without breaching the Lexis Affinity end user agreement. InfoTrack remains committed to ensuring that the InfoTrack System works and will continue to work smoothly with the Lexis Affinity system.
Download the InfoTrack Lexis Affinity Integration Flyer.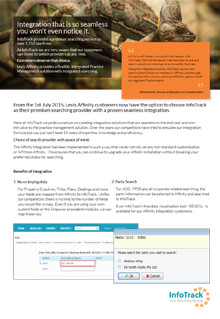 See how InfoTrack integrates with Affinity.
Save time with seamless integration
Save time with seamless integration Book a LexisNexis integration demo below.
* These fields are required.
See how the integration works
Affinity integration testimonials
At Bull, Son & Schmidt, we pride ourselves in providing efficient, friendly, professional service to our clients. We're always looking for ways to give our clients more value and using InfoTrack has been a great success in that regard. InfoTrack's integration with Affinity was effortless and has truly improved our workflow efficiency. We're able to order all of our searches and property enquiries within each matter and can always rely on receiving the results and capturing costs in real time. Now we can order the watermarked copyrighted Contract for Sale which automatically goes into the file. The level of support that we receive is fantastic and we know that we can count on InfoTrack to help us at any time.

 

Richard Schmidt
Senior Partner at Bull Son & Schmidt
At Marsdens, we utilise modern technology and tailor it to meet our clients' needs. InfoTrack's seamless integration with Affinity keeps us on the leading edge of technology and allows us to deliver more efficient and affordable legal services to our clients. Installation was easy and the system has been extremely reliable. The real-time integration and data mapping not only save us time but give us peace of mind. InfoTrack is always there to help us with training and support.

Peter Crittenden
Partner at Mardsens Law Group
At Cornwall Stodart we couldn't be happier with InfoTrack. We find the search interface easy to use and search results are returned at an incredibly fast rate. Using the integration built by InfoTrack we can now search directly from our matters in Affinity, and through this partnership we have achieved efficiency gains in both our legal and finance teams.

Shirley Hamel
Director of Operations at Cornwall Stodart