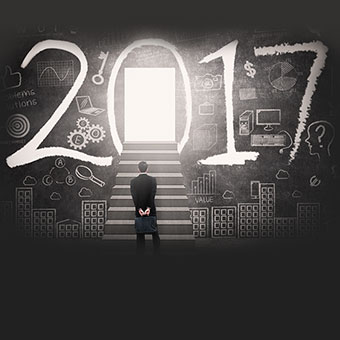 6 predictions for the legal industry in 2017
31 March 2017
by John Ahern
InfoTrack has been servicing the Australian legal market for several years and there is no denying that the industry is in a period of unprecedented disruption. Through our discussions with clients we know that everyone – from sole practitioners to large international firms - is feeling the pressure to adapt. There's a lot of change happening and people are looking for ways to not only keep up but to differentiate their business.
With that in mind we checked in with a broad cross section of industry experts - from cross border firms and patent attorneys to smaller firms driving eConveyancing – to find out where they see the industry heading in the coming year. Below is a roundup of some of the predictions we found most interesting.
1) We'll see more cross-blending of professions
"When we recruit, it is often the additional skills that are not law related that are most appealing and which create the point of differentiation. One of my favourite lawyers used to be a builder. He has his LLM in Building and Construction Law and creates practical outcomes for his clients as he is experienced in the industry and across many roles that come up in his area of work. Personal, practical experience provides a higher level of understanding making it easier for clients to communicate. This often leads to good rapport and trust."
- Claire Martin, Head of Property, Kreisson
2) Low-cost legal offerings are on the rise
"I'll be closely following the fortunes of the 'Jetstar' models in 2017. Many firms are setting up organisations with lower cost lawyers doing 'business as usual' work at cheaper rates as well as offerings like Lawyers On Demand. I'm interested to see if that market becomes saturated. It will be interesting to see if they can recruit and retain quality legal staff and how those investments pan out."
- Nick Abrahams, National Leader Communications, Media & Technology Group, Norton Rose Fulbright
3) Robot lawyers will not take over
"Legal technology is so far off developing a 'robot lawyer', this question will still be asked in 10 years' time. I do think certain AI 'lite' tools will start being deployed over the coming year. In particular, machine learning technology is moving along very quickly."
- Lachlan McKnight, Chief Executive Officer, LegalVision
4) More prospective lawyers will have science & tech backgrounds
"What would be beneficial would be an increase in the number of law students obtaining science degrees, as opposed to the historically popular arts degrees. Technology will become an integral part of legal practice over the next ten years; people aspiring to be the lawyers of tomorrow should embrace that and select their degrees accordingly."
- Mark Vincent, Principal, Shelston IP
5) Mental health issues will remain a concern
"The profession, especially the patent profession, combines three aspects of work: attention to detail, strict deadlines and long hours that contribute to mental health issues. The greatest resource to deal with the problem is an understanding that the issues exist so that, if necessary, action can be taken. I don't think currently mental health issues are given the priority that they deserve. There is a sink or swim mentality or survival of the fittest that drives the legal profession, which results from the great competitiveness between firms."
- Dr Grant Shoebridge, Principal, Shelston IP
6) Cyber-attacks will continue to be a serious threat
"Across the board the profession is not adequately prepared for a cyber-attack. Some are trying to get their heads around it but there is a long way to go. Firms need to embed a cyber risk culture and recognise that people are almost always the weakest link. Staff need to be aware of potential risks and thoroughly trained. Given organisations now have to report any privacy breach, clients will demand their legal advisers get serious about cyber-security."
- Murray Lawson, Senior Director, FTI Consulting
You can download our eBook to read the full range of predictions for 2017.