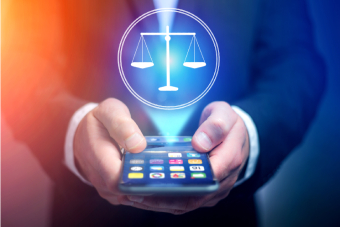 Innovation from the trenches – 4 ways to keep up to date with lawtech despite your workload
20 November 2018
by Fiona McLay
When you are busy meeting deadlines for your clients, it can seem impossible to also manage your team, do business development, and still have time to keep up with the latest technology.
I love to share tech tips and tricks and I'm often asked how I find time to learn this stuff.   Moving to a smaller team got me interested in tools that removed mundane repetitive work that I could no longer delegate. I made time so that I wouldn't have to do any more soul-destroying document reviews. But there are lots of other good reasons:
Professional obligation. Recent trends in the USA suggest keeping up with technology could become a part of our professional duty. In the USA 32 States have now adopted a duty of technology competence[i].
Clients will increasingly expect higher rates of innovation and better use of technology. Last month, Microsoft[ii] required its panel firms to publicly present a legal service delivery innovation story to facilitate more demand for better innovation in legal services.
It makes financial sense. 78 % of surveyed law firms experienced an increase in productivity following the adoption of new technology[iii]..
There are plenty of accessible tools that require little or no capital outlay but will improve the way you work, your client's satisfaction with your work, and your firm's bottom line.
How to get started
All of the best lawtech innovation I have seen comes from bored and frustrated lawyers who have taken the time to think "Is there a better way to do this?" Michele DeStefano's book Legal Upheaval is a practical guide to getting the right mindset. She says:
"Innovation is like TNT, but it is not always explosive and disruptive. Instead, it can be TNT as in T for tiny, N for noticeable, and T for things that add lasting value."[iv]
Four things you can start to do today (even if you have no budget)
Get familiar with the capacity of existing tools
Regularly spend five minutes learning a better way to do a routine task you dread. Look it up online. Sites like YouTube, Lynda and Udemy have lots of videos showing how to use common software.
When you come across something you don't know how to do, get comfortable asking someone to show you.
Take it in turn to have demonstrations of a useful shortcut or underused functions in the practice management software at team meetings.
Some of the tools I have found useful in litigation include:
dictate straight to screen using Dragon Dictate;
set up auto responses and auto reminders to handle routine emails;
automate frequently used blocks of text using Quick Parts in Word and Outlook;
produce a visual corporate group structure using REVEAL; and
automatically collate, index and paginate briefs, court books and tender bundles.
If your practice management system involves a multistep online process, have a superuser use Loom to record the steps and make the video recording available to the team.  A screen recording is much quicker to create than instruction manuals.
If you are still two finger typing it is time to investigate typing lessons or dictation products.
Use a free trial version of software
You may need to check with your IT department, but often it doesn't take much time to trial a new product and see whether it could be useful to solve a pain point.
Collect objective metrics
Gather objective statistics to build a case around financial benefits.  For example, "Compiling a paginated bundle took 1/3 time compared to doing it manually and with no need for unrecoverable time checking for handling errors" is more persuasive than "this looks really cool".
Creating a business case for introducing new tools can include measuring the impact before and after on objective measures like:
Time taken to complete task (can you improve a time consuming and inefficient manual process?)
Task satisfaction (can you remove a mundane and repetitive task and remove potential for error?)
Time taken to complete a process (can you streamline a complex process by removing double handling and potential for misunderstandings?)
Impact of change (how many people would have an improved experience?)
Go to free product information sessions put on by legal software vendors
Vendors of tech products love to show how their products make legal process work easier.
Sign up for free lunchtime seminars or webinars on tools which are useful in your area of work.  ALTA Demo Days are a fantastic opportunity to speed sample different lawtech tools as are InfoTrack's complimentary events.
If you identify a useful tool, the vendor's business development managers can help you present a case to counter common objections to introducing the product. They will be happy to come and do a demonstration for the decision makers.
Start with small changes done consistently
Once you start looking for better ways to work you will start to see opportunities to implement low-cost solutions.  There is no need to re-invent the wheel and pour money into developing a customised bespoke solution.  Employ products already designed to solve problems commonly faced by law firms and legal departments which can be used "off the shelf".
If you focus on improving your ability to look after your client's needs and get familiar with what your existing software and resources are capable of you will find enormous capacity for small changes which, done consistently, can deliver noticeable improvements.
Given that 91 % of law firm respondents believe their employees would need a broader skillset to be ready for the future[v], it is clear that the time to start getting familiar with new technology is now.
For more innovation tips you can visit www.fionamclay.com.au and www.rankinbusinesslawyers.com, or follow me on @BreakupBusiness or Linkedin.
-------------------------------------------------------------------------
[i] https://www.lawsitesblog.com/tech-competence/
[ii] https://www.legalevolution.org/2018/09/can-microsoft-hit-refresh-client-law-firm-relations-068/
[iii] 2018 GlobalX + ALMPA Legal Industry Report – survey of 243 firms across Australia and New Zealand
[iv] DeStefano, Michele. Legal Upheaval: A Guide to Creativity, Collaboration, and Innovation in Law (Kindle Locations 1694-1696). American Bar Association. Kindle Edition.  Attributed to James Batham, head of innovation, Eversheds Sutherland
[v] 2018 GlobalX + ALMPA Legal Industry Report – survey of 243 firms across Australia and New Zealand
Subscribe to the newsletter