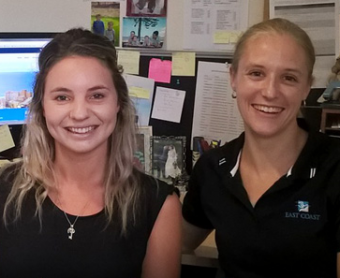 With the recent announcements by the NSW and VIC governments of timelines for completely digital conveyancing by July 2019, practitioners in both states are picking up the pace to transition to electronic. In January, First Class Legal completed the first end-to-end eConveyance with PEXA integration, continuing to spearhead the push to digital in the Victorian market. On 3 March 2017, East Coast Conveyancing became the first NSW firm to complete a fully integrated eConveyance using InfoTrack's IDfy, eConveyancing platform and PEXA integration through LEAP. From conducting verification of identity with IDfy, the title search, through to preparing, signing, and exchanging the contract online and settling through PEXA, the team at East Coast completed the whole process electronically in one system.  Ashleigh Lumby, Solicitor, represented the purchaser and Elise Goura, Licensed Conveyancer acted on behalf of the vendor. We talked to Elise and Michael Pauling, Director of East Cost Conveyancing, about this milestone and their experience with eConveyancing so far.
How did you get started on this journey?
Elise: I came on InfoTrack's roadshow around Dubbo and Bathurst and got a good understanding watching John (InfoTrack's CEO) perform the demos. At that point, we'd been using IDfy for VOI for around 6 months and had been liaising with InfoTrack around eContracts. We asked for a few fixes with the technology and once those were done we just jumped in – nothing ventured, nothing gained.  Ashleigh and I had two clients buying from each other so it was a great opportunity and we knew as John said in his demos, there was always the option to parachute back to paper if we wanted to so we felt safe about it.
Michael: We're always interested in technology and how it will shape the future so we always try to be early adopters at the forefront of innovation.
Did you have any hesitancies?
Michael: We rely on InfoTrack to provide us with a solution that is legal and once we're assured of that we move ahead with testing fairly confidently.
Elise: I was really nervous about the exchanging the contract electronically, I was actually shaking a bit because I'd never done it before and only seen it in a demonstration. I knew once the exchange was done everything would keep rolling as I'd already gone through the PEXA process before. It was actually stupidly easy in the end – literally the click of a button. I had my client on the phone telling me to just do it!
How would you describe the process?
Elise: Liberating. Time-wise we saved hours and there were virtually no hard copies – when we went to archive at the end we realised there was nothing to archive because everything was done electronically.
Were there any surprises or roadblocks?
Elise: None, I was just surprised at how easy it was and how little work we had to do on it. It was truly liberating.
What were the major advantages for your firm?
Elise: The time savings were amazing. This was a small contract so it probably would have taken around 15 minutes to exchange, but instead it took 15 seconds. I couldn't put a figure on the time saved on the entire process but it would have been hours – we weren't on phone to the banks, didn't have to scan, mail, respond to emails, etc. – there was very little that we had to do in the end. The whole process was streamlined and the most time-consuming part was working on the figures and going through the contract, but even then there's only one electronic making it a lot easier. We're already endeavoring on larger projects now – we're using PlanIT for an 11-lot contract and it will save us hours and hours of work.
Michael: The clients were very happy with it too! It's providing a point of difference – younger clients particularly will move toward people who provide a product that's suitable to their needs. We can now service anyone in NSW, we're not confined geographically anymore because everything can be done online.
How did the other parties react?
Elise: Our clients absolutely embraced eSigning, they thought it was great. The purchasers still came in to review and sign the contract in person, but they then went home and signed it on their iPad because they wanted to.
What was it like using the new PEXA integration?
Elise: We use LEAP so it was nice to be able to see all the PEXA information on the file within LEAP. We could do everything from within one system and didn't have to go from one to another. It was seamless.
What was the most difficult part?
Elise: Finding a matter that I could do it on and making sure all the stars were aligned – I needed to make sure the banks were on PEXA and the clients were on board.
Have your peers been taking up this technology as well?
Elise: There are some people who are still very resistant to change, they won't take up PEXA yet either. These are the same people who dug in their heels when electronic stamping and eNOS came into effect. In Newcastle a lot of people are embracing PEXA, eContracts are more groundbreaking but it's only a matter of time until they're embraced as well. We've only suggested it to a few firms so far and their main hesitancy has just been due to unfamiliarity with the technology.
The NSW government just announced a timeline for fully digital conveyancing by July 2019, in light of this what advice would you give others who are starting to adopt eConveyancing?
Elise: Simply embrace it or get left behind. Soon you won't have a choice and will be hard-pressed to find another firm that will do a paper transaction. Right now, you have the time to pick and choose and go at your own pace – you don't have to do everything electronic all at once and can pull the rip cord and right back to paper you go. I think people are either going to retire or start to pick it up.
Michael: It's really the client experience that's important – not pressure from the government. First home buyers are now in their late twenties and early thirties; they grew up in the age of iPhones, iPads and all that sort of stuff so convenience is key and they're always looking for ways to do things easier. There will be a lot of disruption to the market in the next three years and the rate of change will continue at a fast pace so the sooner you begin adopting the technology the better off you'll be.
Will you be conducting more of your transactions electronically?
Elise: Yes, most definitely. It just comes down to case by case basis and making sure all parties come to the table – that's the biggest hurdle.
Michael: Yes, once our clients are happy with something we look at introducing it across the board and the response to eContracts has been very positive.