Simplifying your off-the-plan contracts
PlanIT is an online portal that makes off-the-plan projects easier than ever. Leave behind your excel spreadsheets for good with our ultimate off-the-plan platform. With PlanIT and SignIT you can easily prepare, sign and arrange settlements for your off-the-plan contracts online. No need to print, copy, collate, compile and post hundreds or thousands of pages of documents manually.
Create a project




When creating a project, you simply specify the number of lots/units, address and project details.

Create a master contract




Once you've created your project you can order parent titles, plans, dealings and other certificates. You can also import special conditions, unregistered plans, and other documents.

Compile and

 export
Once you're satisfied with the master contract, you can compile the contracts for all lots with one click. You can customise individual contracts at a lot level or update all contracts at a master level. Choose to export all Contracts as a zip file, as well as the ability to export all data into an Excel spreadsheet.
Electronic signing with SignIT


You can easily upload the contracts for your off-the-plan project to SignIT. Once uploaded, you can send the parties a link via email for signing. You can easily track who has and hasn't signed via the SignIT dashboard.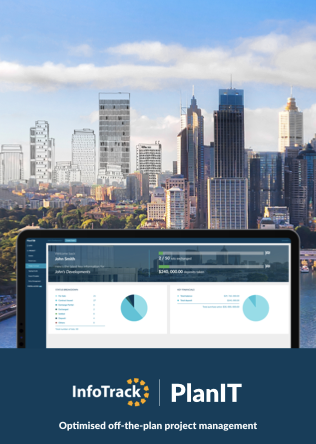 We've put together a flyer showing how you can use PlanIT for off-the-plan contracts.
Please enter your details in the form and we'll be in touch.