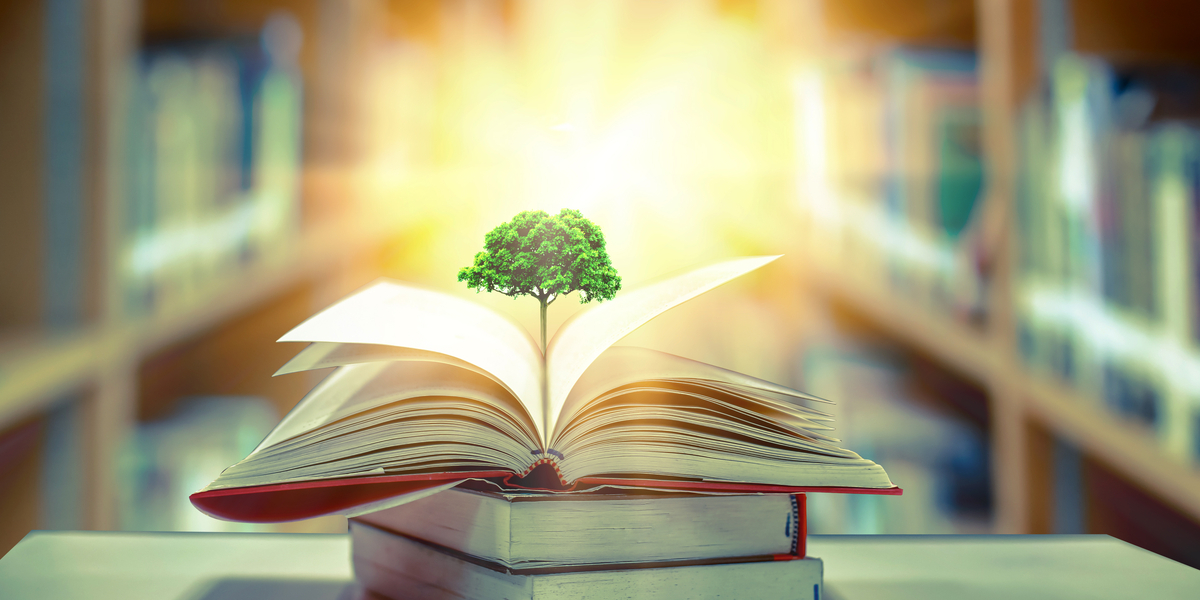 Following a public enquiry into the Victorian Environment Protection Authority (EPA) in 2016, the Victorian Government has embarked on a significant program of change.
Central to this change, are sweeping new laws designed to hold polluters to account. They give the EPA more powers and tools to prevent risks to the environment and human health.
The new environmental legislation - the Environment Protection Act 2017 and Environment Protection Regulations 2021 will come fully into force on 1 July 2021.
This will introduce a new general environmental duty (GED) requiring all Victorian businesses, industry, and community members to prevent and minimise environmental harm as far as reasonably practicable. It will also introduce new duties to manage contamination and in some cases, notify the EPA of contamination.
What is The General Environmental Duty (GED)?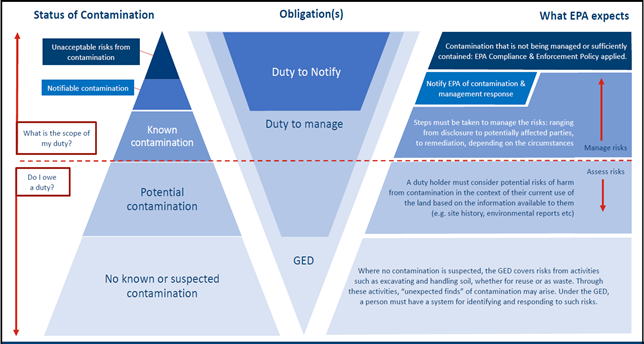 The GED requires people engaging in activities that may give rise to risks of harm to human health or the environment from pollution or waste, to understand those risks and take reasonably practicable steps to minimise them.
At its most basic, any person engaging in activities that may interact with the soil or groundwater must identify risks associated with that activity and take steps to eliminate and minimise risks.  In order to meet that duty, it is necessary to properly identify risks. Appropriate risk identification should include consideration of what is known about the site, it's history and surrounds.  If available information does not indicate any contamination risk, EPA recommends establishing a process for managing unexpected contamination finds.
However, if some information is available about potential contamination risk, it is necessary under the GED and Duty to Manage to identify and interrogate contamination risk further.  One key feature of the new legal Duty to Manage contamination is that in assessing what management action is or was reasonably practicable at any given time, consideration is given as to what the person knows or ought reasonably to know about the presence of contamination on the site.
"A duty holder must consider the potential risks of harm from contamination in the context of their current use of the land based on the information available to them (e.g., site history, environmental reports etc)."
When is it 'reasonable' to know contamination is present?
Contamination is often underground and not readily observed from the surface of a site. It often contains substances that are 'invisible'. For a person in management or control of land (to whatever extent), the scope of the duties relates to what they know, or reasonably ought to know, about the status of contamination on that land. Importantly, when assessing whether it would be reasonable, one legal factor is whether or not the person could practicably seek advice regarding the contamination.
This requires people in management or control of land to consider:
what they actually know about the condition of land they manage or control, and
what they ought reasonably to know when considering what others in similar circumstances would know.
All persons in management or control of land must take an active approach to considering the facts at hand about contamination, and what can be inferred from these, to assess the potential for their land to be contaminated.
When contamination is present, or you suspect it is present, you have a duty to manage the risks from that contamination. This is the case even if the contamination happened before you took control of the land.
The following principles help determine when a person is required to take steps to assess and manage contaminated land: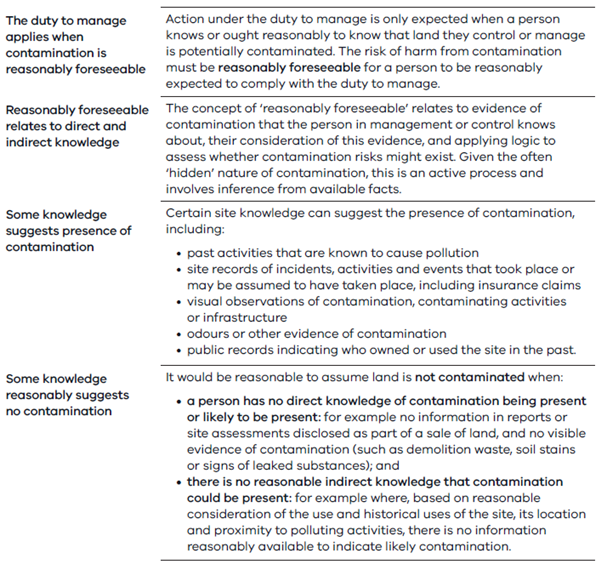 What are the penalties for non-compliance?
The new laws provide a range of compliance and enforcement measures to boost the EPA's ability to do its job, including modernised and improved powers for EPA authorised officers.
The core offence of breaching the GED will attract a penalty of up to $322,000 for an individual or $1.6 million for a corporation. For an intentional or reckless breach of the GED that results in material harm, a higher penalty of up to $644,000 and/or 5 years imprisonment for an individual, or $3.2 million for a corporation will apply.
How to ascertain 'what is reasonably forseeable'?
In line with EPA's guidance that the GED and Duty to Manage contamination might apply depending on whether or not contamination is reasonably foreseeable, Lotsearch have developed the largest environmental risk database in Australia, which includes information about historic ownership and land uses that may present a contamination risk. The database is made up of over 600 separate information sources. Reports can be automatically generated from the database for any site across the country and delivered direct to your inbox.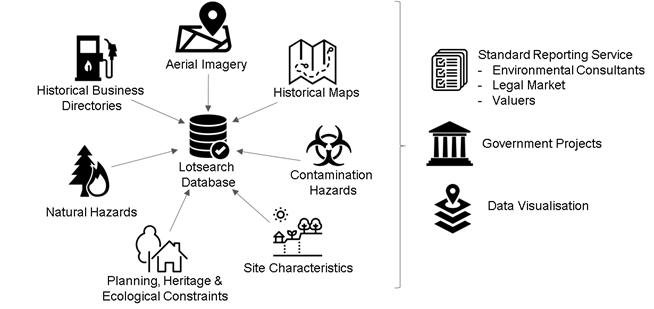 Lotsearch reports include information on past activities that are known to cause pollution, site records of incidents, activities and events that took place (where these were reported to EPA), contaminating activities or infrastructure and records indicating who owned or used the site in the past.
Below is a map of Melbourne that shows the known contaminated sites across Melbourne (red) and the potentially contaminated sites (orange). There are over 25,000 properties across Melbourne where there could be a potential contamination present as their past activities were known to cause pollution.
It is important to remember that the present use of a site may be no guide as to what it was historically used for in the past.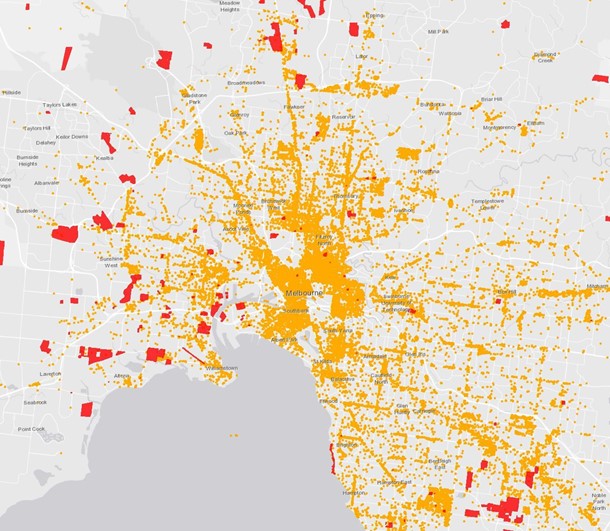 How do I order a Lotsearch Report?
Lotsearch have developed two reports specifically to help you meet the new GED and Duty to Manage requirements.
The Lotsearch Contaminated Land Search is a search of all known contamination sites from public sources (e.g. the EPA).
The Lotsearch Contaminated Land Screening Report is a more comprehensive report that offers a search of known contaminated sites (as above) but also a search of former historical business activities that result in a site being potentially contaminated.
Lotsearch delivers reports directly to your inbox within 24 hours. These reports are key due diligence tools to help you manage risk and helps you and your clients meet new legal obligations. All Lotsearch reports are available to order through InfoTrack.
For more information, register now for our upcoming complimentary webinar "Understanding the new laws and impacts of contaminated land with Lotsearch" on June 22.