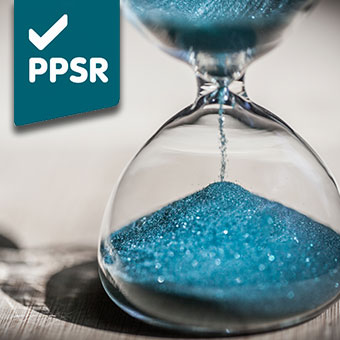 PPSR end of grace period – are your clients' interests protected?
The final transitional period provided under the Personal Property Securities Act 2009 (PPSA) for registrations that were migrated without an end date is coming to a close on 30 January 2017. The PPSR became the single national register of security interests in personal property when registrations recorded on over 35 other registers were automatically moved across to the PPSR on 30 January 2012.
Many of the registrations from previous registers were migrated with missing or incomplete fields and the 'period of grace' has provided time for users to fix these migrated registrations. This transitional period is coming to an end in a few weeks.
What does this mean?
Your clients need to review all of their current registrations which were migrated with no end date, and make any required changes prior to 30 January 2017 in order to ensure that their interests remain protected. If secured parties don't take action before 31 January 2017 they may put themselves at risk if their registration cannot be found by searching the PPSR.
What do your clients need to do?
1) Review all registration through the 'Current registrations for a secured party group' report
2) Ensure all registrations have an end date 3) Ensure all registrations contain all required details to be effective 4) Remove any registrations that are no longer required
Amending PPSR registrations
Not every migrated PPSR registration will be incorrect or incomplete, and not every error in a migrated registration will necessarily make the registration ineffective. It is important to note that some registrations cannot be amended and secured parties may have to create a new registration. Furthermore, amending a migrated registration so that it has an end date beyond 31 January 2017 will not extend the application of the transitional period to that registration
The PPSR has a helpful page on which registration attributes can and cannot be amended. It has also created a table outlining possible issues with migrated registrations.
This is a good opportunity for your clients to make sure their registrations are correct and up to date so that their interests are protected.
For more information, register for our upcoming webinar with Shah Rusiti or visit: