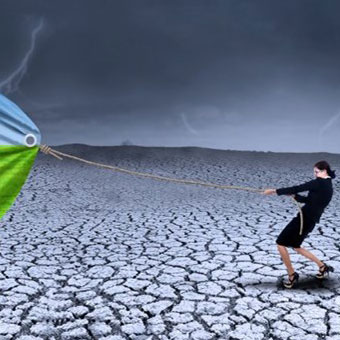 Over the past five years, the Australasian legal industry has undergone tremendous change due to disruptive technology, increased client demands and evolving pricing structures among other game changers. In anticipation of this year's ALPMA Summit– A Blueprint for Change - ALPMA and InfoTrack surveyed 163 firms across Australia and New Zealand to gain insight into how the Australasian legal profession is adapting to the changing legal landscape.
The preliminary findings show that most firms (74%) perceive the profession as a whole as reactive – changing only when necessary, too slowly or failing to respond effectively to the external and internal factors transforming the sector. This seems to be especially true when it comes to technology, as the number one technology challenge cited by most law firms was the struggle to keep up. While 38% of respondents believe they are at the head of the pack compared to other firms when it comes to technology adoption, most firms believe they are in the middle or at the back of the pack.
As a technology company with a large legal client base, we are well aware of the perceived barriers to adopting technology. We're in constant communication with our clients and we understand the types of concerns that often prevent firms from trying new technology. But our research indicates that emerging technology is the greatest driving factor for positive change for firms (57%). This means that despite their struggle to keep up with technology, most firms recognise its importance and the impact it can have on their firm. With this in mind I'd like to offer some tips on how to better keep up with technology.
Adjust your mindset
Many firms are still trapped thinking that implementing new technology requires huge investment, resources and training, but it doesn't have to be that way and it shouldn't if you find the right provider. In today's world it's all about user experience. Good companies are building products and systems that are easy to implement and use. Good technology will make your life easier by simplifying processes, increasing efficiency and saving you time and hassle. Don't let one negative experience taint your view of technology as a whole - if you're struggling with your existing systems, it's likely due to your provider – do your research and shop around until you find what's right for your firm.
Move processes online as soon as possible
Legal processes have already begun to move online, and the pace of this transition is only picking up speed. Conveyancing, filing and contracts have already begun going digital, and it's only a matter of time before other processes follow suit. Take the leap as soon as you can - moving processes online should not be a daunting task, the right provider will allow for a seamless transition and you'll wonder why you didn't make the move to paperless earlier. The faster you move online, the easier it'll be for you to keep up with new digital processes.
Use integrated systems
Are your practice management, document management and searching systems integrated? If not, you're likely wasting a lot of time duplicating information across various platforms. Integration technology can save you significant amounts of time by allowing you to do all of your work, searching and document management within one system. A good integrated system will continue to integrate with newer products, allowing for easier implementation of new technology in the future. Many firms have the misconception that integration has to be complicated and expensive – they worry about downtime, training, and a myriad of other perceived issues but a good integrated service provider will provide integration for free, install it with no downtime and provide training as needed.
Don't be scared to be an early adopter
The legal industry is a notoriously late adopter, but times are changing and playing it safe won't get you far. You have to take some risks in today's market and staying on the leading edge of technology can help you differentiate your firm in an increasingly competitive market. The legal industry is still in the early stages of digitisation and that means there is a lot of opportunity for innovation. Keep an eye on the market and be aware of emerging technologies to stay ahead of the game. The more you test out, the better idea you'll have of what works for your firm and what provide the most value to your clients.
Overall, technology should not be something to be sacred of. Resistance to change has long been embedded within the profession but now is the time to break free of that thinking and not let perceived barriers hold your firm back. With the right technology and a good provider, most of these barriers are non-existent and you'll wonder what has been stopping you from taking the leap into the digital future.
The full report can be downloaded here.