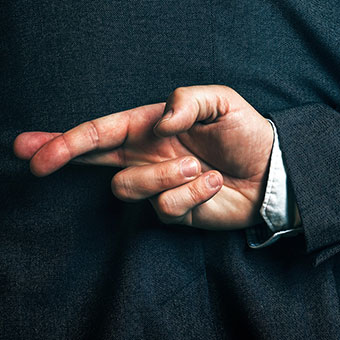 What happens if I lie in a job application?
Sometimes when you're preparing and updating your resume for a potential new role, you may find yourself coming face-to-face with some of those skeletons that were pushed to the back of your closet in the past. While your initial instinct may be to 'tidy up' your resume by slightly fabricating some details, the better action would be to have total honesty in your documents.
In recent years, it has become commonplace for companies to have a strict pre-employment background search policy in place. Not only does this make it easier for organisations to spot dishonesty in a potential candidate's job application, it also ensures that the company environment is a safe and open setting.
What do you do if you have blemishes in your professional past? We sat down with InfoTrack's HR Manager Liz Ball to give you the answers!
How and where would you find out if a candidate is being dishonest in their job application?
As a candidate, it's important not to underestimate how much information can be viewed online. If considered for a position, it is likely that your potential employer can and will cross-check your information with LinkedIn. Essential items that they will be on the lookout for are dates of employment, job titles and your references. If there is certain information that can't be found online, it's not uncommon for an employer to contact companies or education providers directly to confirm that you or your listed reference work/studied there.
What if I have a job gap? Should I use years on my resume to hide a 3-month gap?
If there is a gap on your resume, it will be questioned. In this case, it's always best to be honest. If you were looking for work during that time, let your potential employer know. If you took time off to travel/take a break, let your potential employer know. If you took time off to have a baby, let your potential employer know. Having a gap in your resume isn't uncommon, so being honest as to your reasoning why is always going to be the best option.
What if I have skeletons in my closet (e.g., Criminal record or DUI offence)?
If you know you have a criminal record, even if you're unsure of whether it would come back in a Police Check or not, it's always best to disclose this with your potential employer before a Check is conducted. An employer can't automatically bar you from a position if you have a criminal record. Unless your offence withholds you from having the ability to complete the inherent requirements, you can still be a considered candidate, as per the Australian Human Rights Commission Act 1986; all persons have the right to equal opportunity.
Is it ok to highlight tasks that I only spend a little bit of time doing?
When you're putting together a resume, you will list what tasks you perform under each job. If it's a performed task, it doesn't hurt to highlight it. At the end of the day, it's another skillset on your list.
What if I dropped out of uni with only 8 credit points remaining on my degree, can I still list the degree as a qualification?
Generally, no. But you can include a transcript of your studies as a supporting document.
If you've not completed a Degree, whether you choose to include it on your resume differs from case to case. There are a few things that need to be considered. For example, how much time has it been since you studied? If you've deferred your studies, including the course on your resume is fine, just be sure to include a proposed completion date. If you've not deferred, and it's been 5+ years since you were studying, removing the course from your resume could potentially be the better option.
Is it ok to omit an educational credential because I'm overqualified?
If you've completed a course that adds to your skillset, always include it on your resume. The more skills you have, the more employable you are!
What are the implications of lying on your resume?
When submitting a job application, always ensure that everything matches up and if there are any gaps, be able to explain them. If a company finds that you've been dishonest with your application, you will lose all credibility and most often will be made to forfeit the position.
This article was originally posted on My Police Check.