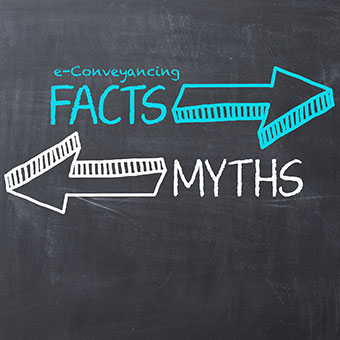 A few weeks ago, I presented at the last of our Conveyancing Transformed Roadshows in Sydney. I've been travelling across Australia with industry experts since August of last year demonstrating InfoTrack's e-Conveyancing technology. We've held over 60 roadshows in regional towns and big cities and presented to over 4,500 practitioners from sole practices to national firms. These roadshows have given me significant insight into how lawyers and conveyancers are dealing with disruption in the property industry. I've met people who have already taken up end-to-end e-Conveyancing and others who have said they'll never use it.
It wasn't surprising to me to see the results of our recent survey of over 300 practitioners which indicated that only 54% thought it was realistic that conveyancing be 100% digital by 2019.  There are a number of misconceptions in the industry that are leaving practitioners skeptical of new technology. Usage is undoubtedly picking up – over 115,100 eCOS were compiled using our system in the past year, but there is still quite a bit of resistance to e-Conveyancing out there. I'd like to dispel a few of the major myths that I've come across over the past several months through my conversations with practitioners across Australia.
Myth 1: e-Conveyancing = electronic settlement 
Many people still believe that e-Conveyancing = PEXA, but PEXA's platform is only the final step of the e-Conveyancing process – electronic settlement. All stages of the conveyancing process can now be completed online from the moment your client walks in the door - from completing a verification of identity with your mobile, to ordering certificates online and preparing, signing and exchanging a contract of sale.
 Myth 2: An eCOS has to be signed electronically
When I ask clients why they haven't tried our eCOS yet, the majority will respond that they're not ready to try electronic signing. The biggest misconception I've come across in the market is that if you create an electronic contract, you're then stuck having to electronically sign that eCOS. Using an eCOS simply means your contract is compiled electronically, it doesn't mean it must be signed electronically. An eCOS can be printed off and signed manually just like any contract.
Why use an eCOS if you're not going to sign electronically? The main benefits of an eCOS come into play well before the signing stage. InfoTrack's eCOS allows you to compile the entire contract into a single PDF in one click. This eliminates the hassle of piecing together a contract from multiple sources and having to print, arrange and scan the different parts to compile a PDF. It's simply a huge time-saver that reduces data entry errors and streamlines the contract compilation process. 
Myth 3: You have to go fully digital all at once 
You can choose to use whichever parts of the e-Conveyancing technology chain make sense for your firm. For example, you can use an electronic contract, then print it off and manually sign it and then use PEXA. It's not all or nothing and if any part of the process is more difficult than the paper version, then you shouldn't use it. e-Conveyancing tools should improve upon your existing process; they should save you time and streamline your workflow. You can test the waters and figure out what works best for you and your clients. 
Myth 4: All parties need to be InfoTrack users 
Only the vendor's solicitor or conveyancer needs to be an InfoTrack client. Our system is completely separate from PEXA where all parties have to be subscribers. Once the vendor's representative has completed an eCOS, they can send it for electronic signing to the purchaser's representative regardless of whether they're an InfoTrack client or not, all that is required is a valid email address.
 Myth 5: Electronic transactions are less secure 
There are many aspects of electronic conveyances that actually make them more accurate and secure than the traditional paper process. First, when you create an eCOS through InfoTrack, information is pulled directly from the title to populate the contract ensuring accurate data. If you continue to electronically sign that eCOS, then there is one single version of the contract which eliminates many of the problems that can occur when there are several paper versions floating around - no missing pages, no discrepancies between versions, and no issues with the post. When it comes to electronic signing, signatures are tracked and meta data shows when, where and from which IP address the digital signature was completed. Lastly all electronic documents are stored securely on the cloud, eliminating the need to store sensitive client documents in your office where it's more vulnerable to damage and theft.
 Myth 6: e-Conveyancing requires significant investment 
InfoTrack's e-Conveyancing tools are simply part of our existing platform. There are no installation or ongoing fees, and just as with paper conveyancing most of the costs are disbursements. We provide free training and ongoing support for all our services. The time-savings and flexibility that our technology provides can help increase margins and level the playing field for smaller and regional firms.
 Myth 7: You have to be tech-savvy to use e-conveyancing technology
On the roadshow, I met tech-savvy early adopters, paper conveyancing diehards and everyone in between. Regardless of which category they fell into, the common reaction to my demonstration of our e-Conveyancing platform was surprise at how simple it was. If you do your banking or shopping online, you can use e-Conveyancing tools. The process is just as easy for your clients and much more convenient; most will be happy to electronically sign in order to avoid the hassles that come with couriers and Australia Post. If you ever need support, both InfoTrack and PEXA provide free training to help you get familiar with our platforms.
Myth 8: e-Conveyancing technology will replace staff
Technology is not going to make you obsolete, it will simply allow you to perform manual and administrative task more efficiently and accurately. Good technology will make your life easier, fit seamlessly into your existing workflow and provide a point of differentiation for your firm.  You can use the time you save automating processes to focus on more important revenue-generating tasks that require the analysis, judgment and reasoning of a skilled professional.
Final thoughts
The main benefit of our e-Conveyancing platform is that it integrates all the aspects of the conveyancing process - from eCOS to transfer - with your practice management system, document management system and PEXA. We currently have 26 integration partners and are continuing to work on more. We've developed our technology to be as unobtrusive as possible and fit seamlessly into your existing workflow to provide easier, faster and more secure conveyancing.
As is always the case in any sector that is being disrupted, there is resistance and uncertainty in the market, but this can be overcome with better education and willingness to trial the technologies that are available today. If any part of the electronic process is more difficult than the manual process, then I completely agree you shouldn't use it. Just make sure you are basing that decision on proper use of the technology. The market is moving toward digital, but you have the time now to test out the different options and figure out what works best for your practice at a pace that works for you.