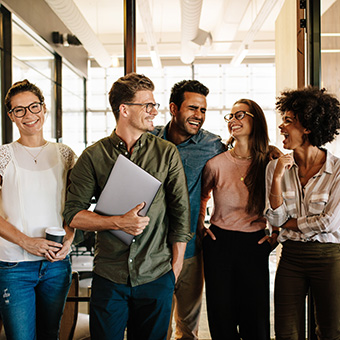 'High performance' gets thrown around a lot these days as a new buzz word, but few businesses know what it is or how to define it. Everyone seems to be striving for it but many find it hard to articulate what exactly it means for their business. It is not as complicated as it seems – here are some simple steps to cultivate a high performance culture in your firm.
Define what high performance means for your business
High performance is something that should have a unique definition for every firm. What are your firm's values and how do you expect your employees to fulfil them? What do you want to drive and motivate your employees? How will you define their success? Take the time to map this out – what are the characteristics you would expect from a high performance employee at your firm?
At InfoTrack, we have developed an employee value proposition defined by 'effort over obligation' – we expect our employees to come into work with a motivation and effort that overshadows any feeling of obligation. If employees are thinking about obligation, they're missing out on opportunity - we are always thinking about opportunity and where it can next come from. We don't dwell on what we are obliged to do and that's why our workforce is brimming with ideas and innovation, and opportunities never pass us by.
Recruit the right people
Once you've defined what high performance means to you, you need to recruit the right people. A robust recruitment process should include clearly defined roles and expectations and be run by someone who understands your firm and its values. It should include multiple interviews with different people within your firm, and interviews should be designed to screen for high performance indicators that you are looking for. At InfoTrack, myself and our CEO take time to interview as many potential candidates as we can because we understand how important it is to our business to hire the right people.
Results according to McKinsey's Global Survey: War for talent, reveal that high performers are 400 percent more productive than average ones. Furthermore, the gap rises with a job's complexity.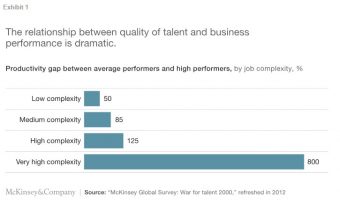 Be transparent about your strategy
Being transparent about your firm's strategy and goals helps foster a sense of trust and mutual understanding. The more employees understand what you're working towards, the more enthusiastic and involved they will be. When employees can clearly see how their work is adding to the end goals of the firm as a whole they have a greater sense of purpose. At InfoTrack we have company wide updates each 4 months to detail our new strategy to our employees across Australia so everyone knows what part they're playing to reach our goals.
Don't underestimate the importance of succession planning
Succession planning is key - be open and honest about opportunities for growth and ensure that you speak to employees about their careers and where they see themselves in the future. The clearer vision an employee has about the future of your firm and their place in it, the more dedicated and motivated they will be. It's important to ensure there are no single points of failure to keep a business running at top performance.
Track employee engagement
Engagement occurs when employees feel an emotional connection to your firm and its goals. Employees essentially want three things; a meaningful vision of the future, a sense of purpose and great relationships. The more engaged employees feel, the more productive they are, the better service they provide and the longer they stay in their jobs. Engagement fosters a collaborative, empowered, innovative, productive and overall positive environment.
There are a number of ways to track engagement – ensuring open communication with employees along with regular reviews and opportunities for feedback is key. Having a formal system in place such as employee engagement surveys helps to hold you accountable and creates a measuring stick. Employees will appreciate the opportunity to give feedback and will feel that they are being listened to.
Seek out diversity
Diversity should be seen as a necessity in any modern firm. Employing people with a wide range of backgrounds brings a unique mix of talents, perspectives and experiences to your workforce. Having a variety of different viewpoints challenges people to think outside the box and encourages creativity and innovation. Diversity helps to ensure your firm will continue to evolve and can be a significant differentiator in today's competitive market. It can not only help attract and retain the right employees, but also the right clients.
Recognise achievements
The power of reward and recognition should never be underestimated. Achievements of all kinds should be celebrated, from individual milestones to team and firm-wide efforts. Whether it's a work anniversary or winning a big case, make sure employees feel acknowledged and appreciated. This doesn't mean you have to break out the cake for every achievement, sometimes a thoughtful email will do and other times a real celebration will be in order –just make sure you take the time give kudos when they're due.
Always remember that your employees are your most important asset; they are the face of your firm, they are the ones interacting with your clients every day and they will define your firm's future. A high performing firm requires a high performance workforce.