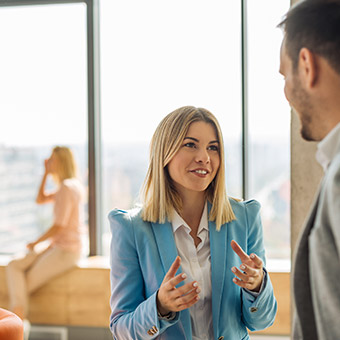 When it comes to effectively managing other people, it's important to remember to lead by example. Your success depends on their success. To best achieve this, having a genuine understanding of each of your employees is fundamental.
Here are some of our top tips for better understanding your employees:
Be flexible
Having a flexible leadership style is important, as employees are a diverse group who have unique motivations. Employees respond better if a leader can adapt their style accordingly.
There are several different kinds of leadership styles, all of which have proven to be effective depending on the circumstances, attitudes, beliefs, preferences and people involved.
Charismatic leadership
Charismatic leaders create a comfortable and friendly atmosphere for their followers by listening to them and making them feel that they have a voice in decision making. They use charm to get the admiration of their followers and show concern for their people and look after their needs.
Famous example: Bill Clinton
Participative leadership
This type of leadership style is common in the corporate environment. Participative leaders act more like facilitators rather than directors. They facilitate the ideas and the sharing of information with the end goal of arriving at a decision.
Famous example: Donald Trump
Situational leadership
Three factors affect the decisions made by situational leaders; the situation, the capability of the followers and the capability of the leader. The leader adjusts to whatever limitation is being presented by their subordinates and the situation itself. For the situational leader, adaptability is key.
Famous example: Richard Branson
Transactional leadership
A clear chain of command is usually established under the transactional leader. The leader will motivate their subordinates by presenting them with both rewards and punishments.
Famous example: Bill Gates
Transformational leadership
Put simply, transformational leaders inspire their followers. They motivate and empower their followers by using their own beliefs and personal strengths.
Famous example: Walt Disney
Employee engagement surveys
Conducting regular employee engagement surveys is a good way to gather information and track how your employees are feeling about life at your organisation. To gain maximum benefit from employee engagement surveys, be sure to listen to what your team is expressing and act on that feedback. This is a great opportunity for you to address any strengths and weaknesses amongst the team and work on improving those!
At InfoTrack, we run an employee engagement survey every 4 months, so that we can track how our employees are feeling about their InfoTrack life. The surveys usually get a 70% minimum response rate, and we maintain a consistent NPS score of 60+. We use the feedback from each survey to address our strengths and weaknesses and have an open discussion about the business.
Behavioural profiling workshops
Conducting a behavioural profiling workshop helps both the individual and others gain insight into personal working style, motivators and stressors and helps teams to better understand how to get the most out of their working relationships.
We recently held a workshop at our InfoTrack office for our employees, where each employee involved completed a DiSC assessment to determine their personal working style. This was a half day workshop that involved engaging employees in discussion and analysis in the ways that they can interact with different work styles and how they can adapt themselves to better work with their colleagues.
Schedule time to talk to employees
Strive towards leaving behind a legacy and not just an impression. By investing in your employees as people and not just employees, gives them the opportunity to flourish not just at your organisation, but wherever their career path may take them. One way in which you can activate this is by going for regular 'walk n' talks'. By removing yourselves from an office environment and being in a more relaxed and open environment encourages open discussion regarding business and career.
Implement specific development plans for employees
As a manager, it's important to ensure that all employees have development plans in place that are actioned regularly. For workers with high potential, development plans should cover tasks, but on a deeper level, including individual competencies, knowledge, experience and personal style. Knowing your employees on a deeper level helps you to understand what motivates them, what they want to improve on and where their aspirations lie.