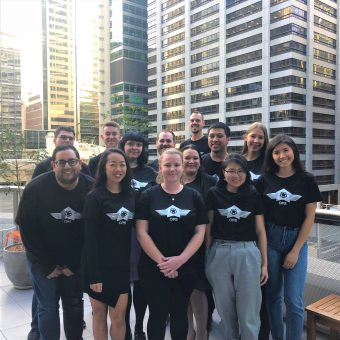 Customer service is undoubtedly a key factor in the success of any company, and in a world of evolving technologies, it is important to provide an innovative approach to client satisfaction.  I describe customer service innovation as breaking boundaries; transforming the way in which customers interact with a service.
While innovation and customer service aren't usually linked, giving your customers the tools that allow them to create their own experience can be a win-win for all parties involved. At InfoTrack, we provide a customer support experience like no other. By giving our clients control over their experience, the transparency in the process helps us to ensure that they are always kept in the loop. It's a more innovative way of servicing customers that don't just leave them waiting around for answers. Here are my 10 tips for developing an innovative customer support team.
Know your clients
It is vitally important for your team to understand your clients' businesses and what the key driving factors are for them to operate efficiently.  This is especially important when you are operating in a business-to-business capacity and/or providing a service.  Understanding their pain points and the importance of the part your company plays in the service they deliver is key in providing a positive customer experience.
Prioritise quick and accurate responses
Ensuring that your client responses are quick and accurate will enhance your customers' experience and encourage future growth with the partnership you have with them.  Setting KPIs for your support teams around the resolution of client enquiries within the first contact, as well as response times for enquiries received online or by email, will ensure your customers have confidence in your service.
Be good to your word
Trust is a key driving factor for repeat business.  Your clients need to trust that when you promise them something that you will deliver on that promise.  Realistically a company is only as good as its last service delivery, one breach of trust can undo years of relationship building and even lose a client.  It is important for customer service teams to be realistic in their promise of service delivery; never over-promise or under-deliver.  If something changes that will impact on the promise you made the client, proactively contact them to readjust the expectations.  Communication is key.
Respect your customer's time
In the same way customer support teams want to resolve a customer's issue as quickly as possible, your customer also wants to get this resolved in a timely manner.  Offer ways of communicating with your customer support team that allows for efficiencies for both you and your customer.  For more detailed requests, offer call back services where your team can get back in contact with the customer once the concern has been investigated.  It is also a good idea to offer consistency with the person they are communicating with to ensure things don't have to be repeated.
Ensure product knowledge
Ongoing training of your customer support team on your products is imperative.  Your customers use your products regularly and expect that your team's knowledge of your product exceeds theirs.  Training new team members can often prove challenging in this regard as we have all had to learn the product at one point, but in a call centre environment, it is important to ensure your customer service representatives have a certain level of knowledge before they are left on their own to answer enquiries.
Utilise technology to enhance your customer's experience
The way we communicate has been significantly impacted by the advancements in technologies.  This provides businesses great opportunities to meet the ever-expanding expectations of customer needs, especially when it comes to customer service and client experience.  At InfoTrack we provide our clients with real-time access to their enquiries through our iSupport platform with the ability for our customers to communicate with us in a method that best suits them.  Using available technologies to not only enhance the customer's front-end experience but also to measure your team's response times, call quality, lost call rates and more allows you to look for areas of improvement and development within your team.
Provide a feedback solution
While we take time to ensure we understand our clients, they will always know their business better than we will.  Creating an easily accessible feedback solution will give your clients a simple way to communicate concerns, as well as positive feedback and suggestions, limiting assumptions on your part.  At InfoTrack we utilise NPS surveys as well as featuring an easy to use feedback solution on our customer interface.  It is important that if you are going to be receiving customer feedback that you act on it.  If a client is an NPS detractor, contact them in a timely manner to try to resolve their concerns; if they provide feedback on how to improve, acknowledge this and thank them.
Invest in your employees and empower them
Taking the time to understand each of your team members individually will not only allow you to get the best out of them, it will also help you to understand their individual professional goals, helping you to invest in their future within the company.  Richard Branson's well-known quote "If you take care of your employees, they will take care of the clients" is something I wholeheartedly agree with.  At InfoTrack we have four core values and they are literally on the walls of our offices.  The first of these is 'We care about what we do and the people we work with' and we live this every day.  We live all our core values and our team finds it empowering as our values clearly describe how we approach what we do and why we do it.  It is also vital that you pass on positive client feedback to your team, as well as the areas for improvement – no one wants to only hear the negative; boost morale with praise for a job well done.
Make yourself available
It is important as a leader that you lead by example.  Your team members are your internal customers and it is important that you measure yourself in the same way you measure your team.  Understand what they do, take time to learn the systems and processes, stay on top of product development and changes and lead your team to a positive mindset.  Happy team members will provide better service to your customers and they are looking to you, their leader, to set the example.
Constantly look for ways to improve.
It is important to keep your finger on the pulse.  Keep up to date with changes in your industry and the industries you serve.  Look out for new technologies and trends and utilise customer feedback to constantly improve.  We are only ever as good as our clients think we are, you can't tread water, you need to always be on the lookout for ways to improve any aspect of the part your team plays in the customers' experience with your company.  Striving to be the best means always improving.
If you enjoy reading our blog posts, be sure to subscribe!