iCare
iCare is InfoTrack's comprehensive employee benefits package and yet another example of why InfoTrack is a Great Place to Work.
We are unapologetic for demanding high performance because we know that's what sets us apart. We expect wholehearted enthusiasm, excitement and an effort that overshadows any feeling of obligation - because it's not a job with InfoTrack, it's a love for what you do. That said, we recognise that it's our people who make the difference and iCare is how we take care of our own so our staff feel engaged, valued, healthy, motivated and rewarded.
Personal development
Lunch & Learns
Whether you want to learn more about InfoTrack's products or industry hot topics, we've got regular lunchtime sessions delivered by our own internal experts to help you continue to grow and stay ahead of the game.
Mentoring program
We strongly support employee succession through the business and take special care to pair together employees with mentors that can help them grow and develop.
Tailored learning and development plans
Each employee has a tailored learning and development plan that's more than just a piece of paper; it's actioned, reviewed and adapted on a regular basis.
Structured performance reviews
We want to make sure our employees are engaged and on track so we like to check in on progress, provide feedback and discuss goals together in detail. Our reviews are rigorous and provide employees with the opportunity to steer their career paths.
Study assistance program
We gladly support employees who are interested in relevant tertiary education and provide financial and leave assistance to do so.
In-house leadership and personal development programs
Our executive facilitated leadership and personal development programs help employees both professionally and personally. Our aim is to grow our people to be the best versions of themselves through awareness, coaching and life skill development. We also boast a growing leadership library with books to inspire the future leaders among us. 
Internal promotions ​
At InfoTrack we take pride in finding the right people and providing them with the opportunity and flexibility to find the right position within the organisation. We're focused on building our business through our internal capabilities and we have a keen eye for potential and succession.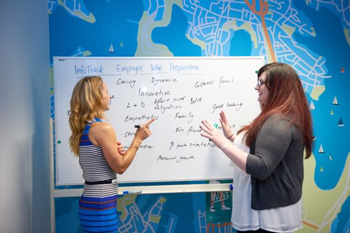 ---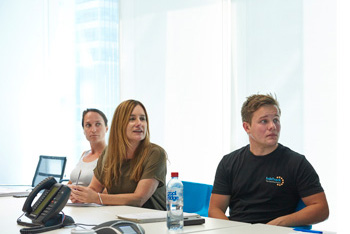 ---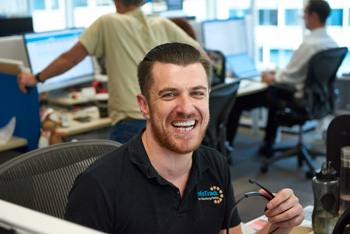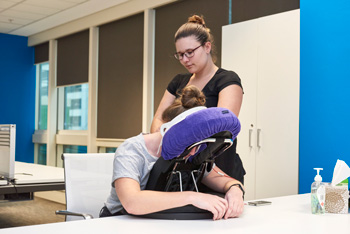 ---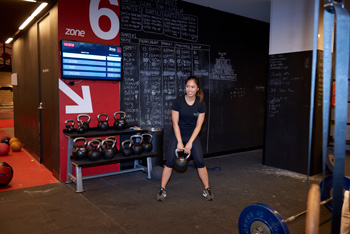 ---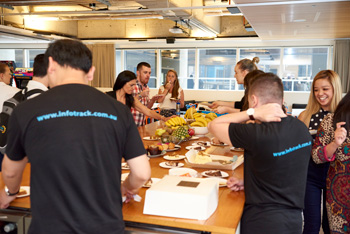 Health & Wellbeing
InfoTrack coffee shop
Open every day from 8:00am-3:00pm in our Sydney office. InfoTrack's very own coffee shop boasts some delicious brew and tasty muffins. Stop by for breakfast or a chat to start your day off with a smile.
Employee assistance program
Our in-house health and wellbeing program includes health checks, continuing education on important health issues and free counselling for employees and their direct families.
Gym memberships
Keep fit and stay active with a Fitness First Platinum membership that gives you access to any Fitness First club in Australia. Sneak in a lunch time HIIT class or after work training session.
Daily fruit and breakfast
We keep our kitchen stocked with a supply of fresh fruit, bread, cereal, vegetables, spreads and other healthy snacks as well as fortnightly sausage sizzles.
Sporting activities ​
From soccer to netball to City 2 Surf we've got you covered. We're a team on and off the field.
Monthly in-house massages
Relax and unwind with a soothing massage without having to leave the office.
Parental Leave Policy
We understand that our employees are the cornerstone of our success and we continue to be committed to being a great place to work. We acknowledge that we expect a lot from our staff and understand that we need programs and systems in place to best support you at work, which is why we offer a generous paid parental leave scheme.
Innovation
Blue sky initiatives and innovation team
As an innovative disruptor, we're always looking for blue sky ideas and we actively encourage and reward outside the box thinking and innovation.
Innovation team
We have an exciting team that is solely dedicated to developing new and innovative ideas for the business, using in-depth R&D and cutting-edge technologies.
State of the art offices & technology
As a tech company, we make sure our environment is the best for fostering creativity and development. From chill-out rooms with x-boxes to innovation rooms for brainstorming, we provide employees with the space and technology they need to stay market leaders.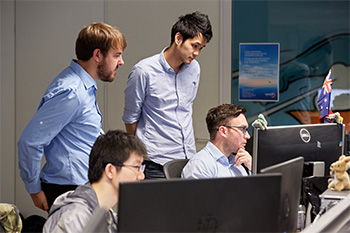 ---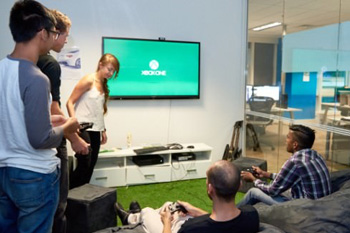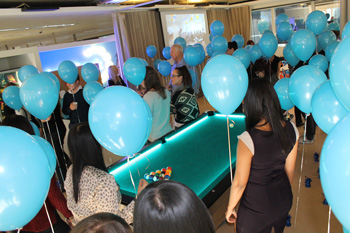 ---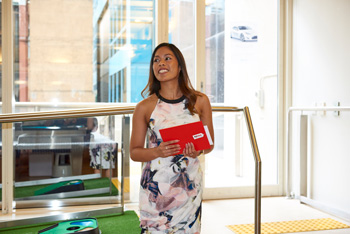 ---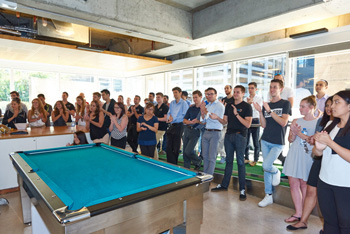 ---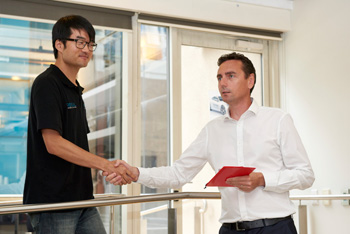 Reward & recognition
Probation celebrations
It takes a lot to impress us here at InfoTrack; we have a rigorous recruitment and onboarding process, and each new employee is reviewed seriously. That's why we celebrate the 6-month probation mark with a special ceremony and an InfoTrack gift pack.
InfoTrack IDs
As one of the fastest growing companies in Australia, we want to acknowledge our roots as we build our legacy. Each employee is given a unique InfoTrack ID based on when they were hired to mark their own place in our growing history.
Spot awards
We like to recognise our employees all year round, not just at performance reviews. When someone goes above and beyond, they deserve a shoutout and we make sure they're rewarded for their effort.
iNominate
Our employee-driven reward program allows our staff to recognise each other for when they go above and beyond. Monthly winners receive a $200 gift certificate and the yearly winner received a trip of a lifetime – literally!
Employee share scheme
Our employees are some of the hardest working and motivated in the country, and we want them to share in our success. Having some skin in the game helps to keep up that determination and spur on growth.
Milestone rewards
As an innovative disruptor and fast-growing company, we tend to break records regularly and reach a lot of milestones. We know that our people drive our success and we like to recognise and reward everyone's hard work when we achieve these milestones.
Culture
People Pulse – Employee Engagement Survey
We know engaged employees care more, are more productive, give better service, and stay in their jobs longer which is why we survey our staff each third to ensure we maintain our strong engagement levels.
Fun & games
Our employees work hard and we want to make sure they have the opportunity to blow off some steam. From video games, to pool and air hockey to Friday night drinks, we make sure there is fun to be had by all.
Team building activities
We know we work better together and actively promote team building and interdepartmental activities to keep the team spirit strong.
Staff referral program
We know that good people surround themselves with good people and we're advocates for our business. That's why we encourage our employees to refer their friends and connections and reward them with $2,000 for each successful referral.
Social committees in each state
There's always something going on at InfoTrack, we work hard and we like to have fun. Some of that includes cultural celebrations, festive parties, City 2 Surf, pizza nights, sausage sizzles and more!
Coffee with the Boss
All new starters get a chance to have coffee with our CEO, John Ahern, on their first day in the Sydney office and in their first month for our regional offices. This gives all new staff the chance to ask any and all questions they may have about the company, John, their role or anything that comes to mind.
Monthly all-staff birthday and service anniversary celebrations
With such a low turnover rate and an ever-growing staff, there are a lot of service anniversaries and birthdays to celebrate every month at InfoTrack. We love to celebrate and it always involves a delicious assortment of cakes!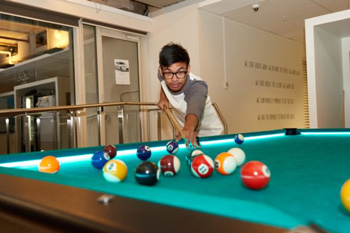 ---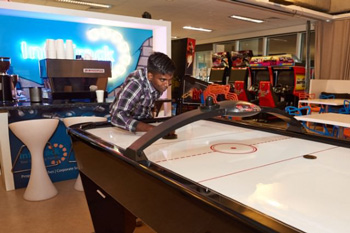 ---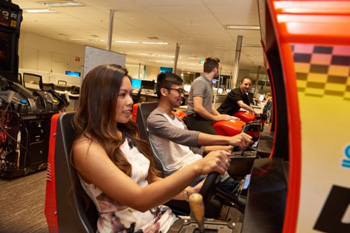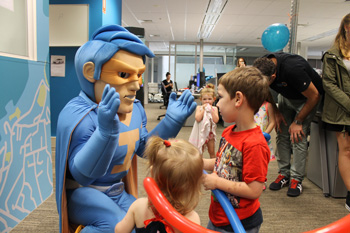 ---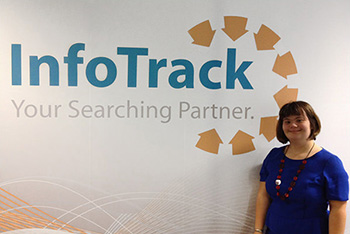 CSR
Community service leave
We strive to be a good corporate citizen and know how important it is to give back to the community so we give our employees the chance to do so.
Oasis
Through our relationship with Oasis we've been able to provide homeless and disadvantaged youth with training and work experience to help them confidently move into the workforce.
JobSupport
Working with JobSupport has given us the opportunity to give someone with an intellectual disability a satisfying job in our vibrant office environment.
Work experience opportunities
We encourage students to come experience what it's like to work for the best company in the country.
Charitable work
From the Abseil for Youth to the CEO Sleepout, Movember and Australia's Biggest Morning Tea, InfoTrack is passionate about supporting good causes.