Complimentary training modules
InfoTrack has partnered with CryptoAustralia to offer your firm complimentary Cyber Security Awareness Training.
To help you protect your firm and your clients, the training focuses on topics including, how to identify fraud activity, how to protect yourself from hacking attempts and what to do if your firm is hacked. The training consists of two 30-minute online presentation modules.
To complete the online training and receive certification, both training videos must be watched and the quiz for each section, completed.
1 CPD unit*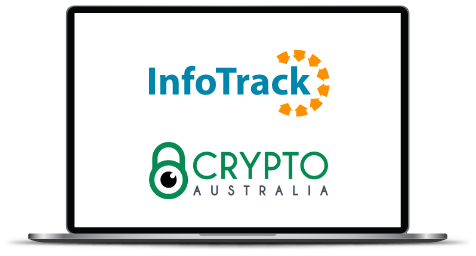 What does the training cover?
Part 1 topics:
What is payment redirection fraud?
How does payment redirection fraud work?
How does payment redirection fraud affect my legal practice?
- The consequences of being scammed
- Why cybercriminals target the legal profession
How to protect yourself and your legal practice
Part 2 topics:
How to tell if you have been hacked
Supply chain attacks & new attack methods
Security first culture in your legal practice
What to ask your IT provider
Cyber insurance
What to do if you get hacked?
Cyber Security Checklist
Use this checklist to ensure that all relevant people have completed training so they understand the risks associated with the electronic dissemination of private information, what to look for in hacking attempts and know what to do should your workplace systems become compromised.
Training provided by:
CryptoAustralia is a leading authority promoting a society where Australians can defend their privacy.
Founded by six privacy and security enthusiasts in early 2017, its founders came up with the idea of an organisation that could empower privacy concerned citizens through hands-on education and research relating to digital privacy and online security; giving Australians a practical way to overcome their privacy and security challenges. Their goal is to bring privacy and security experts to people in need, regardless of their professional background.
Why does my firm and I need cyber security training? We already have antivirus software
Cybercrime is unfortunately, on the rise. "Australians are reporting incidents of cybercrime about every 10 minutes... More than 13,500 reports of cybercrime have been received by the Australian Cyber Security Centre since July 2019. Cyber security incidents cost Australian businesses up to $29 billion each year." Your firm is only as strong as your weakest link and sometimes all it can take for a cyber breach to occur is one of your clients or colleagues responding to a suspect email. This training can help you and your colleagues identify potential threats, how to avoid them and what to do if you do experience hacking.
What is involved?
To receive one CPD unit, you are required to watch two training videos and complete two short quizzes. Each video is 30 minutes in length and you can watch them in your own time. After the videos, you will be required to complete a short quiz to receive your certification.
Why do cyber security awareness training through InfoTrack?
We care about our clients. As the leading innovator in legal technology, we aim to provide you with easy, innovative ways to grow your business. Taking the initiative to protect your firm and clients from cyber crime is a wonderful way to enhance your reputation within the industry. Check out the feedback from our client Sargeants Geelong and Bellarine Conveyancing when they implemented our technology to keep their clients' property deposits safe from hacking.
Can I claim a CPD unit for this training?*
If you are in the legal industry you can claim 1 CPD unit for this training under practice management and business skills. Practitioners residing in WA will be required to submit an application for CPD approval to the Legal Practice Board of Western Australia at a fee of $60.