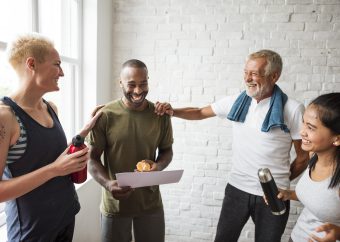 4 ways to improve your wellness
20 November 2018
by InfoTrack
In a professional landscape under constant disruption, change and even exciting transformation, balancing wellness can be a little challenging. If we don't take care of ourselves, who will? Towers Watson's suggests savvy organisations know and value the connection between wellness, employee engagement, workforce effectiveness and organisational health.
For some, it's front-of-mind, for others, it's the niggling thought, reminding us of what we should be doing (and might not be). Whether it's an always or a never notion, it resonates with each of us and it's important.
Wellness isn't just about eating well and moving around (although that is very important). It also comes down to best practice – is what I know is good for me, and what feels good to me, something I'm applying into practice? Am I doing what I should be, or am I just a creature of habit?
There is a wave of innovation and change washing through the legal profession and lawyers, regulators, professional bodies and universities are striving to meet the demands and challenges that come with such rapid transformation. So what factors are fueling this transformation? Well it's a range of things from clients seeking greater value for legal services, to increasing use of technology, increased ethical and regulatory pressures, through to balancing wellbeing and mental health.
More and more organisations are taking ownership of the health and wellbeing of their clients and looking at ways to support them through the process of change. To be able to look after our clients, we need to be looking after ourselves.
Some practical steps professionals can take to ensure they're fostering a culture of wellness include;
1. Prioritise your happiness
Most people want to be happy, but they think they need to compromise because they want to be successful. Prioritsing happiness does not mean you're required to perform any less, but rather prioritising your health and happiness means that it's the surest way for you to be a productive and successful professional. It important for us to be cognizant of wellness since it has a proven impact on mental health – and in accordance with a recent work-life-balance article it is too easy to implicitly prioritise work ahead of everything else.
2. Allow adequate time for relaxation and disconnection
Whilst we may perform the impossible, and travel above and beyond to new heights for our clients, we're not superhuman. If we're going to continue to operate like we do, dodging roadblocks and achieving success, we need to know when to take a break and unwind. If we're expected to do it all again, we need to be ready – and that requires energy!
3. Manage your time
Many of us know, that when we better manage our day, taking the time to prioritise the things that matter, we work better. This includes taking the time to go for a walk, taking a proper break and sticking to a work-life balance that works. I'm sure it would of no surprise to you that according to new research from global recruitment firm Hays, just 28 per cent – of 1,253 working professionals surveyed – say they take their full lunch break on most days. The truth of the matter is there are things that need to get done, but when we plan accordingly, we're better equipped to
4. Manage change and new processes
Innovation has the potential to significantly enhance the personal wellbeing of professionals if the introduction of change is supported appropriately. Implementing change should ideally be incremental and take place within an environment of psychological safety. Practices or firms that are able to provide support and expert assistance with strategic planning and the implementation of change, are more likely to foster a culture of better health and wellbeing.
Whilst some things are easier said than done, wellness is something we need to be conscious of. If you're looking for support finding the balance, you may be interested in Upgrade Your Life 2019. Find out more here.