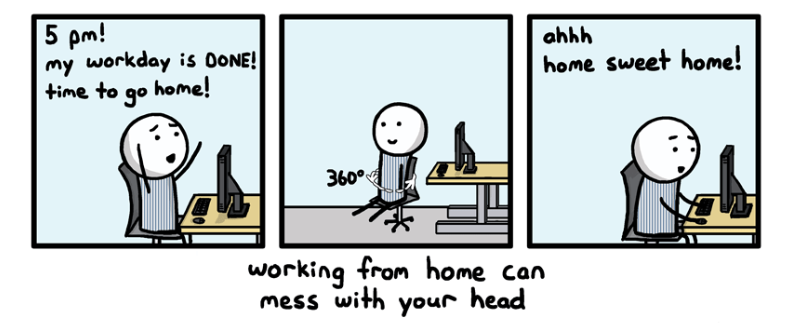 This week saw a lot of people begin working from home for the first time, and from experience I know it can be challenging to stay focused and motivated. Some of you may have done a day here or there from home when the kids have been unwell, or when you've had a tradesperson coming, but this honestly doesn't prepare you for long periods of time away from your office and colleagues. In previous roles I have been lucky enough to have set days working from home to help maintain my work / life balance when my son was young, however last year I spent 10 weeks working from home while my son recovered from heart surgery and I discovered working from home in a whole new light.
If you're a pro / con list kind of person, you might be surprised when you find that in most cases the cons outweigh the pros. While you no longer have travel time, you may miss the solitude it brought you (especially if you have kids and it's the only time of the day you get completely to yourself). You might love and also be frustrated by the extra time with your family (don't feel guilty about this - we hear you!) and while you might love having your pets around, you might also struggle with having no clear divide between work and home. So how do you stay positive, focused and motivated when you find yourself missing the office and your team?
Stay in routine. Although a sleep in might be tempting, your body clock is used to having a certain amount of time from when you wake up to when you begin your day, so keep that alarm set. Get up, exercise, eat breakfast and get ready to tackle the day. You can use your commute time to be productive in other ways like doing a load of laundry or engaging in a hobby.
Get dressed for work. It is easy to let your work attire slip when you're working from home as you're drawn to the thought of being super comfortable, but being dressed and ready to tackle the day is a clear mindset. If you're in your trackies and a t-shirt, your mind goes into relaxed mode. I'm not saying you need to be in a 3 piece suit, but at least ramp it up to business casual. If you're dressed to work, your mindset shifts into the right gear.
Have a defined work space. While it might be tempting to lay in bed with the laptop or push back in a recliner when you're on a conference call, by doing this you are blurring the lines of your work and rest environments. Working in your relaxation or sleeping zone can lead to disruptions in your normal relaxation and sleeping routines as your brain has no clear definition of the space. Set yourself up in a dedicated work space at home (even if you have to commandeer the dining room) and avoid trying to work from public places like cafes as there are too many distractions (plus if you're working from home to social distance, being out really defeats the purpose).
Set yourself goals. These might be small goals like if I make 10 calls or action 10 emails I can make myself a coffee, or they might be big hairy audacious goals to push you to achieve in a massive way. Finding ways to gamify your tasks and setting yourself rewards can help to drive your motivation and productivity.
Exercise. Working from home makes you less active. You might not normally be a gym goer but it's the walk to and from the office, a trip to the shops at lunch or even walking around the office that your body will miss and it needs this activity to stay healthy. Make the effort to do some sort of exercise (this will also help to make sure you get a good night's sleep).
Take your lunch break. Just because you are working from home, doesn't mean you shouldn't stop for time to yourself. Take your break. Eat your lunch. FaceTime a friend and eat together virtually. If you want to get things done around the house so you have more down time on your weekend, your lunch break is your time. If you're worried about people thinking you're slacking off, find ways to communicate your break (like updating your status in Teams or Slack).
Set clear expectations. If you have family members or flatmates that are stay-at-home or not currently working, it is important to set clear expectations and boundaries that align with those of your employer and fit in with your role. It needs to be predefined that just because you are home, doesn't mean you can take a load of washing off the line at 11am, watch the kids while they duck down the shops, or watch the next episode of that show you've been watching while you work. These discussions can be tricky to navigate so it is important that these expectations are managed upfront.
Prioritise your mental health. I have left the most important message to last in hope that it resonates as this can not be downplayed. You need to prioritise your mental health. Regardless of if you're an introvert, an extrovert, or somewhere in between, working from home is a challenge mentally. Find ways to interact with others that work for you. It could be coffee over Zoom, a chat group with your favourite people, a virtual catch up with like minded colleagues, getting fresh air at lunch time, or pounding the treadmill after work. What ever works for you, prioritise it. If you're lucky enough to work for a company that has an Employee Assistance Program (EAP), utilise it. Not only is working from home a big change, but the reason behind most people shifting to working from home at the moment is worrying to say the least. Make sure you are looking after yourself, both physically and mentally.
Working from home for an extended period of time takes discipline and focus. It's an adjustment that can take time but if you set yourself up to succeed from the beginning, there is no need to just survive it, you can thrive in a working from home environment and stand out as a leader within your business.
If you have any other tips for working from home, leave them in the comments to help others adjust to their new normal (well at least for now).