Earlier this year, New Zealand implemented new anti-money laundering (AML) legislation in an effort to curb the flow of illicit money entering the housing market. Meanwhile, Australia has been scrutinised for its slow reaction to strengthening AML legislation.
Earlier this year, AML experts in Australia warned the country lagged behind the global standard.
In New Zealand, real estate agencies have now become reporting entities and are required to:
Verify vendors' identity by collecting identity documentation and, in some cases, financial information
Report suspicious transactions to the Police Financial Intelligence Unit, e.g. if a purchaser wants to pay their deposit with large amounts of cash
Have written compliance programs including an assessment of the particular agency's risk of encountering money laundering
Ensure that all their agents are trained in AML
File annual reports to the Department of Internal Affairs (DIA), and
Be independently audited every two years
In Australia, to reduce cyber fraud opportunities, there are key technologies that can help lawyers, conveyancers and real estate agents. In the past two years, InfoTrack clients reported hacking as the most commonly encountered security threat, followed by malware attacks and email interception.
When undertaking property transactions, it is important that lawyers and conveyancers in Australia verify the identity of their client. Traditionally, InfoTrack clients have verified identity through WebVOI's face to face methods, however there are some circumstances in which a face-to-face in-person interview is not possible due to remoteness or even factors such as time limits and availability. Now, 50% of InfoTrack clients use our remote VOI option to verify the identity of their clients.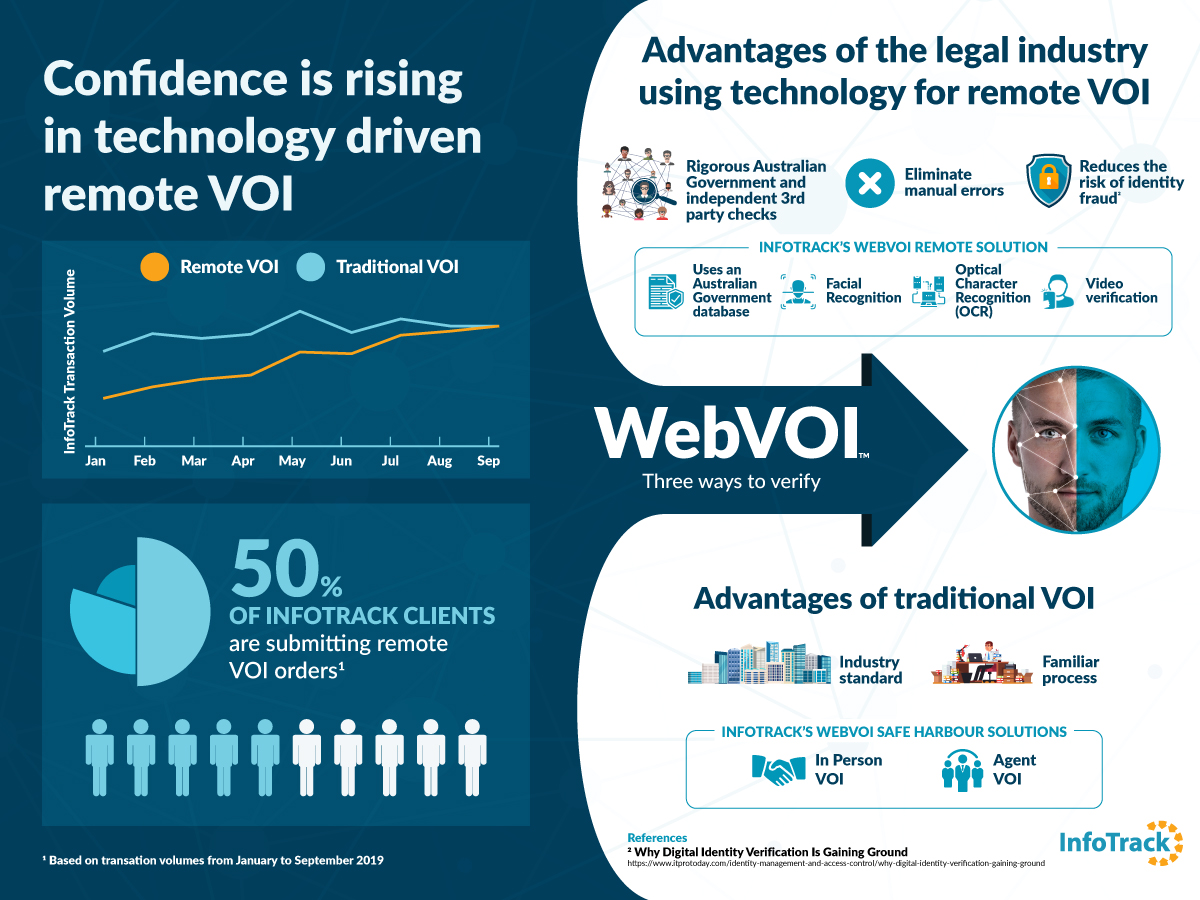 InfoTrack's remote Verification of Identity (VOI) option uses technology to accurately verify a person's identity. This includes rigorous Australian Government and independent third-party checks, facial recognition software and character recognition software. These technologies help to eliminate human error and reduces the risk of identity fraud.
Research shows that while 79% of legal professionals are concerned about cyber security, just 21% have confidence that their firm would be able to handle a cyber-attack. 66% of law firms aren't investing in regular cyber security training.
Every business knows there are risks involved in online transactions. Whether you're taking on a new client, investing in a new venture, partnering with another company, leasing equipment or interacting with unknown entities, each new transaction presents its own set of unique risks. It's important that you have all the information you need to make an informed decision in any situation.
Security is becoming a higher priority for our clients. 30% stated they were 'extremely concerned' about cyber security, and 50% saying they plan to implement new security measures in the next 12 months.
In August, InfoTrack was named AFR and Boss Magazine's leading innovator in legal technology. The award measures top innovation initiatives implemented in the last 12 months. In an attempt to combat cyber fraud, in March 2019, InfoTrack launched Securexchange, which is designed to stop the need to share trust account details via unsecured emails and protects the reputation of all professional parties involved in a property transaction.
When developing Securexchange, InfoTrack surveyed their legal clients and learned of an alarming number of cyberattacks, with 29.8% experiencing hacking attempts and 23.3% having their emails intercepted. This is what sparked the need for the innovative technology solution.
One of the top causes of cyber security breach is human error. Technology and educating your staff around cyber threats can help reduce this. While technology can assist, it is only as strong as the weakest link in your organisation. Taking reasonable steps to reduce the opportunities for cyber criminals to attack your firm helps keep the funds of your clients safe and can protect the reputation of your firm for wider future success.