At InfoTrack we invest in the growth of our people and empower them to innovate. Starting your journey at InfoTrack will give you an opportunity to develop new skills, take on challenges and have a voice in shaping our future.
We care about what we do and the people we work with
We place the highest priority on genuinely caring about our staff and ensuring our culture of excellence is maintained.
We care about the clients we work for
We are only great if our clients say we are. They are at the heart of every decision we make and if it doesn't benefit our clients, then we don't do it.
We continually improve to be the best
We strive to give our best every single minute of every single day. We are an elite team who will stop at nothing to provide excellent service to our clients.
We are determined to reach our goals
We are determined to meet the high expectations set on us in order to outperform our competition and remain a leading technology innovator.
Ever wondered what the employee journey looks like at InfoTrack and if the career progression on offer is everything they say it is? Life at InfoTrack is fast-paced, demanding, exciting, and rewarding. No two days are the same, so be ready to hit the ground running. We are unapologetic for demanding high performance and we ensure that hard work and dedication is recognised. We are constantly investing in growth opportunities for all our people and have created in-house leadership development programs to identify the best talent in the company and ensure that they are constantly thriving.
Our workplace and culture
Our unique culture is built on the connection between our people, clients, technology and service. We are passionate people who care and love to celebrate every success together as a team.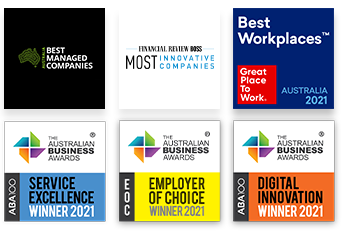 A high performance workplace
How do you use your 24hrs each day? Life at InfoTrack is fast-paced, demanding and exciting. No two days will be the same so you have to be ready to hit the ground running when you start with us.

To work at InfoTrack you need to wake up with a special drive every day. We expect unbridled enthusiasm, excitement and an effort that overshadows any feeling of obligation – because it's not a job with InfoTrack, it's a passion and a love for what you do. At InfoTrack, we walk the walk and value authenticity and honesty. We are second to none, so we have extremely high standards for our employees and expect them to overachieve and surpass the goals we set.

We are unapologetic for demanding high performance because we make sure we take care of our own. We only keep the best and once an employee makes the cut, we ensure they're acknowledged for all the hard work and dedication they put into making InfoTrack one of the Great Places to Work.