50% of our clients are now completing Verification of Identity (VOI) checks through remote channels.
Confidence is rising in technology driven, remote VOI. Our remote solution offers lawyers four layers of identity verification smarts.
Like our clients, we want you to feel confident that you can complete your due diligence accurately and with ease too. So much so, that we are offering you the opportunity to try WebVOI in December and January with our compliments.
WebVOI's in person, agent and remote options provide you with choice on which method suits you to verify the identity of your clients. You're in control, choosing how best to complete your due diligence.
Why use WebVOI?
Find out how in 40 seconds
Lawyers now have access to an Australian first remote verification of identity (VOI) solution that securely emulates face to face identify checks using video technology.
Video verification offers another layer of authentication, increasing your confidence that your client is who they say they are.
No matter the angle, facial recognition technology can match a photograph to identity documentation.
The benefit of remote verification is your client can complete the VOI anywhere at any time. This caters for your client, no matter where you or they are these holidays.
What makes WebVOI a premium Verification of Identity service?
Our newest video feature means you can be sure your clients are who they say they are with real time video recording. The video verification feature gives you the option to ask your clients to video themselves speaking a randomly generated code.
It's your way of combating identity fraud.
Our video verification solution comes at a time when lawyers need to prepare for a potential uptick in synthetic identity fraud attacks and the registration of fraudulent property transactions. Whilst ARNECC's Model Participation Rules offer a VOI standard, a lot is left to the lawyer's discretion to take reasonable steps when it comes to identifying remote clients.
In addition to video verification, WebVOI's remote solution uses three other rigorous checks:
An Australian Government database to confirm details on the identity documents are valid.
Facial recognition to detect facial patterns regardless of angle, lighting, facial hair or if the user is wearing glasses.
Optical Character Recognition that extracts text from images and auto fills this data into WebVOI, to ensure data is entered accurately. For you, this means no manual data entry reducing the risk of mistakes.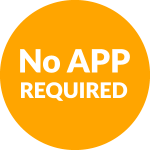 Want to give WebVOI a go?
In December and January, InfoTrack are offering new users complimentary, unlimited usage of WebVOI. This is on all orders placed on December 1, 2019 until January 31, 2020. No App required.
Terms and Conditions: Offer extends to all WebVOI orders between 00.01am December 1st 2019 to 11.59pm 31 January 2020. For eligible clients who have not placed a WebVOI order since June 1st 2019.
Copyright © 2019 InfoTrack