Legal Education eBook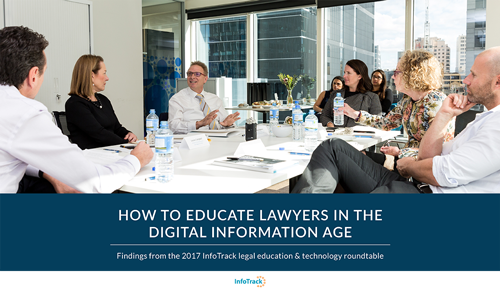 How can we better prepare new lawyers for the digital future?
InfoTrack CEO John Ahern sat down with several legal industry leaders to explore how technological innovation is changing the legal industry and whether the education system needs to evolve to ensure the future success of Australian legal students.
Participants:
Petra Sterling - Head of Legal Capability and Transformation at Gilbert + Tobin
Matthew Ward - Partner at Shelston IP
Michael Adams - Dean School of Law at Western Sydney University
Louise Campbell - Director of HR, Colin Biggers & Paisley 
Key insights snapshot:
'Top of the class' graduates are no longer the default ideal candidate for law firms of any size. A broad knowledge, cultural fit and curiosity now outweigh a list of High Distinctions when hiring.
While technical skills remain very important, soft skills are also required for client service.
A double-degree should not be a pre-requisite for graduates. A demonstrated interest in technology or other sectors is a good enough starting point and does not need another formal qualification.
Under-graduates should focus on their degree and build technological experience in their post-degree careers.
Technology focus and responsibility should not just rest with recent graduates and digital natives, partners and senior lawyers respond very well to CPD courses as they can see the opportunities quickly from a client need.
Better partnerships between education providers and industry are key to expose graduates to the needs of the industry and provided more access to practicing lawyers.
To find out more in-depth insights from the roundtable, download your copy of the eBook now.