SignIT
Powered by

SignIT is an easy-to-use electronic signing tool that enables you to sign documents online in a few simple steps. SignIT saves you time and money by allowing you to execute documents faster and avoid the hassle of printing, scanning and posting. We've partnered with trusted industry expert DocuSign to ensure a simple and secure signing process.
SignIT allows you to upload any document and send it to parties via a secure email link. Parties can then review and sign the document online from any location. You can track who has signed the document on the SignIT dashboard and once all parties have executed, everyone receives a final signed copy. This saves all parties time and improves the user experience.
SMS verification
With its watertight security, InfoTrack's eSigning tool SignIT is safer than paper. For even more added security, you can now add SMS verification to your SignIT process.
Once a document is uploaded, signers are chosen and tags affixed, you can select to have SMS authentication. When signatures have been requested and the email accessed by the recipient, they will be prompted to select the mobile number and 'send SMS'. An authentication code will be sent to the provided mobile number, which can then be entered to enable access to the document for signing.
Start using SignIT
Want a personalised product demonstration?
Benefits of SignIT & smart contracts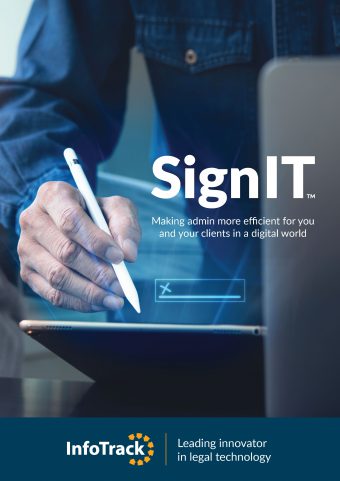 We've put together a quick quide to show you just how easy it is to use electronic signing.
What are our clients saying?
"I would highly recommend anyone to have a go and use SignIT. I have used SignIT a fair bit now and i can honestly say i like how easy it is to operate and use.
It saves the way of printing off multiple contracts, inconveniencing your client for contract signing manually (when a client can sign it anywhere they can access an active internet connection and email) and it literally takes a few minutes to "SignIT" electronically and complete the task and all parties involved will all get a copy of the signed document to keep for their records.
It's not just signing that's easy, you can exchange and that is just as easy, again all parties get to electronically keep a copy of the exchanged contract.
Everything is stored electronically and with now being an electronic conveyancing world, this little product goes hand in hand from the very beginning of your matter to the very end to keep within the whole "Electronic Realm".
SignIT is easy to use, it's step by step guides you on what to do and how to do it and for any novice it's not stressful to navigate or use, it takes the stress away from huge files with paper overload.
If you haven't already tried it, give it a go, you will be pleasantly surprised at just how easy it is and how your clients will appreciate the hands on approach. 
Samantha Sok
New Horizon Conveyancing
New South Wales