Save time
Save up to 3 hours analysing complex company structures through a single page visualisation
Reduce error
Reduce human error and minimise business risk through automatic population of data and aggregated results
Work in one system
REVEAL is integrated seamlessly into your searches whether you're searching through our website or your PMS
Snapshot
Save snapshots of your workspace as you go
Reorder
Reorder an existing search directly from within your REVEAL workspace
Merge nodes
Merge duplicate entities and choose which data will appear for the new singular entity
Graph
View changes between old and new searches
Documents
View a list of related searches and certificates
Share workspaces
Send a read-only copy of the workspace to anyone via email.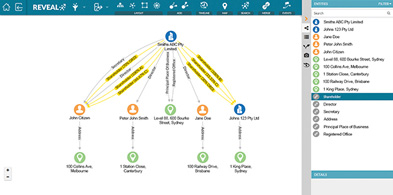 Shareholder percentages
Easily highlight shareholders of a company and view the percentages they hold in relation to each class of shares.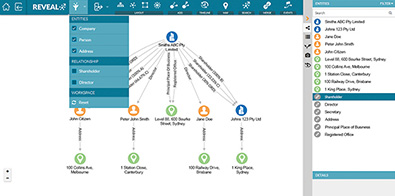 Filter
Filter your results by company, persons, addresses, documents or relationships (including directors, shareholders, grantors and secured parties).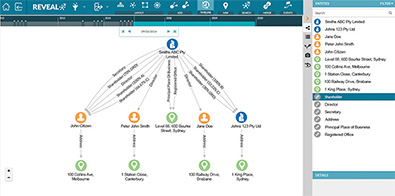 Timeline
View a visual timeline of changes to corporate structure at important points in time such as cause of action, payment to preferred creditors or disposal of assets.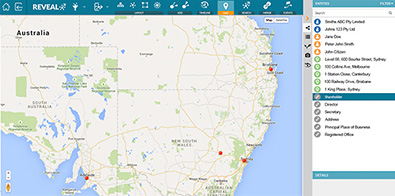 Maps
Easily locate addresses of entities and identify clusters of properties using our Google maps feature.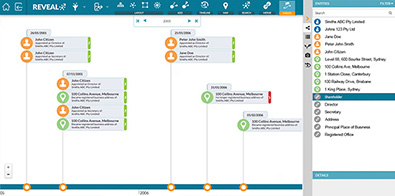 Events
View a timeline of specific events including appointment of directors and secretaries and change of registered business address.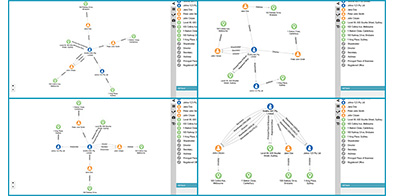 Layout
Customise the format of your workspace to best suit your needs.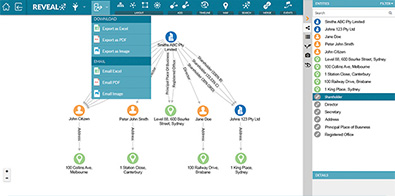 Export
Export or email information within the workspace as an Excel spreadsheet, PDF or image.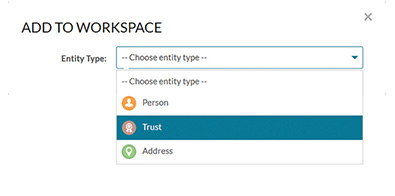 Add entities
Add your own custom entities to the workspace including people, addresses or trusts to display all relevant relationships.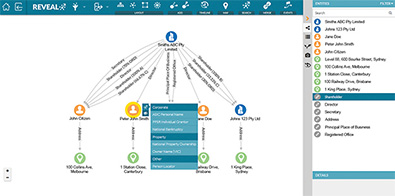 On-searching
Continue searching through the workspace by clicking on any entity. Data will be prepopulated into your search to streamline the process.