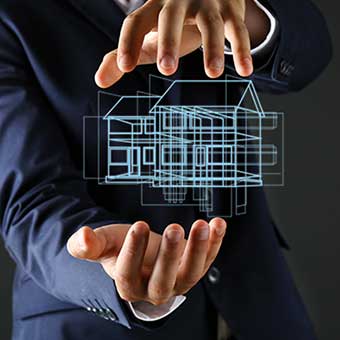 With the property industry in Australia booming, one of the markets adopting new methods and techniques just as rapidly as they are becoming available is the real estate industry. The new generation of buyers are less interested in the traditional methods of property advertising including newspaper ads and face-to-face meetings, preferring real estate agents who can offer tech-savvy techniques such as virtual inspections and live-streamed auctions. In order to remain ahead, real estate agent's need to be quick in adopting new technologies as they become available. Anything that makes you more accessible means more clients, and in a heavily populated industry, having a point of difference is vital. 
There are three new tools changing the Real Estate industry and helping further adopt a streamlined work process:  
Verification of Identity (VOI) Apps 
Identity fraud has become a notable risk for property agents, as scammers attempt to pose as the true owners of a property. In some cases, properties have been sold without the knowledge of the owners.
These situations have exemplified the importance of carrying out verification of identity (or VOI) for all land transactions.
In a recent industry survey we conducted, more than 90% of respondents said that they confirmed individuals' identity by following either an internal process or the Fair Trading Guidelines. Only 2% of respondents used a verification app.
Using a VOI app saves time, allows you to perform a VOI from any location and eliminates administrative work involved in the manual process as information is stored online and auto-populated.  
Auction eSigning
The atmosphere at auctions is always tense. Realtors and vendors are nervous (will anyone buy?!), while purchasers are anxious (will I get the home?!). There's a wave of relief and a rush of adrenalin as the auctioneer bangs their hammer, signifying the sale of the property. The mood shifts, the purchaser is excited, the vendor relieved … until the mountain of paperwork, also known as the contract of sale appears. Like most manual processes, it is time-consuming, tedious and open for errors. 
Rather than having to print, bind and manually fill in details for multiple contracts, you can now sign documents electronically. Adopting eSigning as a regular practice at auction means that all involved parties can access the contract on their device and sign directly onto the electronic version. Once all required signatures have been made, the vendor/s, purchaser/s and representatives will all receive a copy of the final contract in their inboxes. 
Virtual Reality Tours
With more home buyers searching online before contacting agents, it only makes sense that the 'viewing-of-the-property' process goes under a digital makeover as well. Holding VR tours of a property is easy with the use of VR apps that can be easily integrated into websites. Conducting property tours through VR means that you can save time and money, as the need to travel to each location (for both yourself and prospects) is negated and you will have the ability to reach more buyers, for example, potential buyers living abroad can view the property, making your sales pool much larger. 
Where to from here?
While we can't foretell the future of the property industry in Australia, we can work off of what we have seen in the past. For the past 5 years, property in Sydney has been booming, and whilst predictions for the next five years have been mixed, one thing we can rely on in the necessity for real estate agents to remain on top in their technology game.
If you'd like to know more about how we can help your real estate agency streamline its work process, get in touch today!