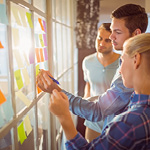 The perks of hiring high performing millennials 
WEBINAR
Thursday 28 September 2017  |  1pm - 2pm
Complimentary
About the event
As more Baby Boomers are reaching retirement age, more Millennials are joining the workforce, resulting in a drastic change of style (we're not just talking about fashion!). Millennials see the world through a different lens. They have different motivations and vastly different expectations of the world in comparison to the generations before them. For businesses to remain successful, new ways to appeal need to be acknowledged in order to boost and retain millennial employees. Join Fiona Crawford, Olympic softball medallist and General Manager Human Resources at InfoTrack to learn the secrets behind InfoTrack's young, loyal workforce. Learn how using the latest technology, creating career paths and practicing due diligence in your workplace can help you attract and retain high-performing millennials in your business.
Presented by Fiona Crawford
With over 15 years human resources, training and coaching experience across a range of industries including sport, fitness, finance, hospitality and automotive; to say Fiona Crawford is passionate about HR is an understatement. Fiona has a BA Sports Studies (majoring in Psychology, Marketing and Science), and was awarded the AHA NSW HR Manager of the Year. Her uncompromising commitment to high performance and continual improvement stems from her sporting background - a two-time medal winning Olympian in the sport of softball (Silver 2004 and Bronze 2000).
Who will you be learning from?
Fiona Crawford, General Manager Human Resources, InfoTrack
Is the event online? 
Yes, this event is an online webinar. Tune in from your office desk, at home or on-the-go.
Who is this event for?
All industries
Professional learning
If you are in the legal industry you can claim 1 CPD unit for this seminar under practice management and business skills.
Discover new ways to attract and retain high performing millenials
Obtain a loyal workforce in today's changing landscape
Build employee enagagement