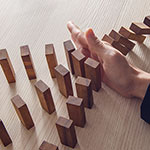 Risk management in day-to-day conveyancing practice
WEBINAR
Thursday 9 August 2018  |  1pm - 2pm AEST | 1 CPD 
Complimentary
About the event
Join Garth Brown as he covers a range of risk management topics and elaborates on how InfoTrack's product suite can effectively aid in handling these scenarios. 
1. Defective and non-Compliant Cladding 
2. Adverse possession – squatters rights, how it works and how to manage the risk. 
3. Asbestos 
4. Non-Compliant Building Work 
5. Foreign Investment Review Board 
6. Identity of Clients through IDFY 
7. Vendor Disclosure updates 
8. New Products Infotrack is releasing and how they can benefit
 Presented by Garth Brown 
Conveyancer of the Year AICNSW 2015 at Brown and Brown Conveyancers, Garth Brown is an expert legal consultant, law firm coach and industry thought leader with over 20 years experience. 
Who will you be learning from?
Garth Brown, B.Bus, JP, CPC, Fellow AICNSW.
Is this event online?
Yes, this event is an online webinar. Tune in from your office desk, at home or on-the-go.
Who is this event for?
Legal and conveyancing professionals.
Professional learning
If you are in the legal industry you can claim 1 CPD unit for this seminar under practice management and business skills.
* Practitioners residing in WA will have to submit an application for CPD approval to the Legal Practice Board of Western Australia at a fee of $60*
How to identify risks associated with day-to-day conveyancing practice
Learn how InfoTrack's product suite can aid in effectivly managing risks
How technological advances can protect your business and your clients